P-ACCC3864A12D
Accuride 3864 90 lb Box Drawer Slide with Mounting Tab
Drawer Slides
MPN: P-ACCC3864A12D
P-ACCC3864A12D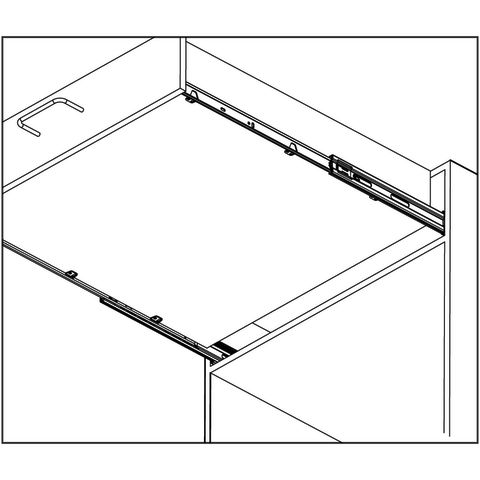 Brand:

Accuride

Weight capacity:

90 lb

Clearance:

0.5 in (+0.062/-0)

Codes & standards:

RoHS compliant

Includes:

Flat head 6 mm euro or #8 pan head mounting screws

Made in US:

No

Manufacturer:

ACCURIDE INTERNATIONAL INC

Material:

Cold rolled steel

Mounting style:

Side Mount (Cabinet), Lanced-Out Tabs Mount (Drawer)

Used for:

Medium-duty commercial, residential, box drawers; For drawer widths up to 16"
You'll never have trouble reaching the back of the drawer ever again.
Designed with 1" over-travel, it is is an enhanced movement solution, providing strength, convenience, and smooth motion to residential and commercial fixtures in need of extra access.
On top of silenced operation, it boasts a hold-in detent to prevent drawer roll-out and bounce-back--you can say goodbye to clattering contents and hardware!
With easy access to mounting holes and precise vertical adjustment, this solution sweats the small stuff, so you don't have to.
Hold-in detent
Silenced open and closed
32 mm spacing on cabinet member holes
Same features as 3834 but with lanced-out tabs for mounting shelf or tray
For drawer widths up to 16"; 1" over-travel; lever disconnect