P-ACCC360712D
Accuride 3607 200 lb Heavy-Duty Slide with Lock Out, Clear Zinc
Heavy Duty Slides
MPN: P-ACCC360712D
P-ACCC360712D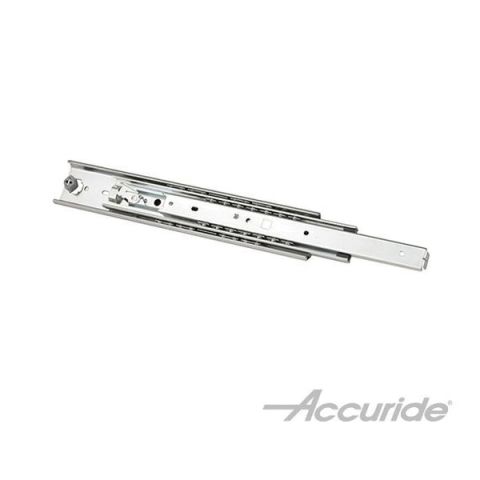 Clearance:

0.75 in (+0.030/-0)

Includes:

#8 Pan head mounting screws

Mounting style:

Bracket or Side/Hard Mount

Weight capacity:

200 lb

Brand:

Accuride

Codes & standards:

RoHS Compliant

Made in US:

No

Manufacturer:

ACCURIDE INTERNATIONAL INC

Material:

Cold Rolled Steel

Used for:

Utility vehicles, work stations and shelving units, bin, trays or deep storage drawers in commercial and residential settings
Broaden your horizons with action-packed motion hardware for wider drawers. Expertly engineered with extra features such as a lock-out and lever disconnect, the 3607 model lends itself to heavy duty loads for shelving units, bulk storage bins, deep trays, and storage drawers in homes and commercial spaces.
Offering full extension to make stored items and equipment fully available, the 3607 solution's lock-out feature also keeps drawers and trays solidly positioned when open for easier-than-ever access.
Throw in a lever disconnect, and you have a versatile slide that takes the hard out of hardware.
Frequent and moderate usage support 200 lb
Lock-out holds drawers and trays open in a safe and stable position for access
Full extension, 0.75" side space
Drawers up to 42 in wide
Lock-out, lever-disconnect