ELVSTARTCLIP
Trex Elevations Start Clip - 400 Sq Ft Bags
Decking Fasteners
MPN: ELVSTARTCLIP
ELVSTARTCLIP
MFG #: ELVSTARTCLIP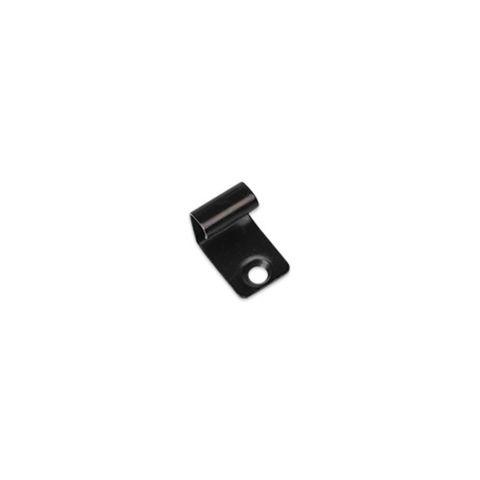 Brand:

Trex

Color/finish:

Black Oxide

Compatible materials:

Designed for use with grooved 5/4 x 6 Trex decking or solid edge decking grooved with the Trex groove router bit.

Compatible tools:

Quality Stainless steel # 7 x 1 5/8" #1 finished head decking screw. Screws included in each bag.

Coverage:

400 sqft

Installation method:

Not compatible with the Tiger Claw TC-G Slot Cutter installation method.

Item Recyclable:

True

Item Returnable:

True

Made in US:

True

Manufacturer:

TREX COMPANY

Material:

Stainless Steel

Pkg quantity:

36

Weight:

0.6 lb

:

ELVSTARTCLIP

:

ELVSTARTCLIP
Trex Elevations Start Clip with Screws are the black, stainless steel fasteners exclusively designed for use with Trex Elevations Metal Joists.
They are made of .040 thick, 201 annealed stainless steel (non-magnetic) and have a yield strength 75 kpsi and tensile strength 125 kpsi.
Trex fasteners are designed to allow decking to expand and contract naturally by sliding on the fastener tab and still maintain hold down strength. Trex Hideaway is designed to maintain consistent spacing as deck boards expand and contract.
Trex Elevations Start Clip automatically creates a 1/4" space between each board.
Note: Trex Elevations Start Clips are not compatible with the Tiger Claw TC-G Slot Cutter installation method
Quick and easy installation
Provides a clean, fastener-free appearance across the entire surface
Stainless Steel for superior durability
Self-drilling #1 square drive screw
Packaged in quantities of 400 square feet