P-WTDLMOTION
Trex Decklighting Motion Controller
Landscape Lighting
MPN: P-WTDLMOTION
P-WTDLMOTION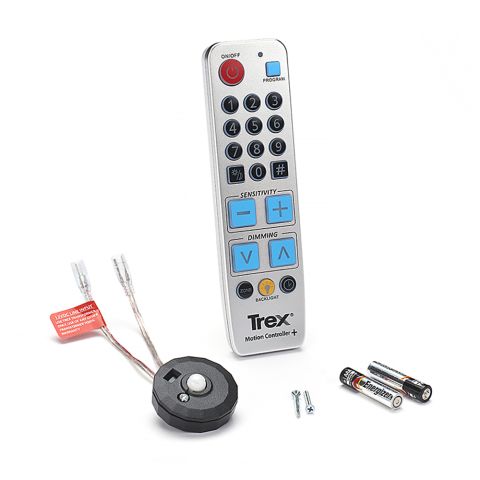 Brand:

Trex

Compatible materials:

Lighthub-equipped Trex lighting installations

Includes:

Motion Controller unit, Programming remote with batteries, 5' Male-male Lighthub wire, Screws for installation to composite or wood, Adhesive for installation to metal or other surfaces, Installation and programming instructions

Made in US:

True

Manufacturer:

TREX COMPANY
The Trex Motion Controller is a powerful addition to any lighting project. It puts you in control of how and when your lights come on, and has unique features not offered by other controllers.
This 1-3/4" diameter controller can be used to replace the timer and dimmer, and it adds the functionality of a motion controller. Using the supplied remote, the installer can program several aspects of the lighting system to get a perfect setup.
Once the photocell sensor senses darkness it will activate the lights for the exact amount of time you need them on. The photocell sensitivity is adjustable to compensate for less-than-ideal conditions. You can also have your lights come on when the controller senses motion. The sensitivity of this sensor is also adjustable, in the event unwanted motion is causing the lights to activate.
Works will all Lighthub-equipped Trex lighting installations
Can be retrofitted into existing installations
Leads can be cut & stripped, and the unit can be hard wired into systems that are not utilizing the plug and play features of the program
Use of a Trex Transformer is required