P-SSTU
SmartSide Touch-Up Paint Kit - 1 qt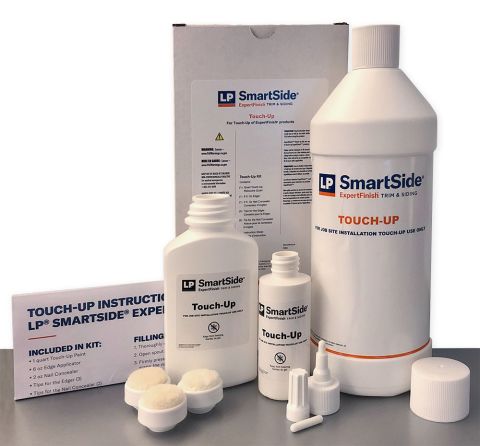 Application:

Engineered Wood Siding

Brand:

LP SmartSide

Compatible materials:

LP SmartSide ExpertFinish siding and trim

Coverage:

Approximately 25 - 30 squares

Includes:

1 qt Touch-Up Paint, 6 oz Edge Applicator, 2 oz Nail Concealer, (3) Tips for Edger, (2) Tips for Nail Concealer, Instruction sheet

Installation method:

Apply when air, siding, and paint temperature is above 50°F. Shake well for a minimum of 30 seconds before first and every use.

Made in US:

Yes

Manufacturer:

LOUISIANA PACIFIC

Used for:

Siding Accessories
Use this paint kit to apply professional touch-ups to LP ExpertFinish SmartSide siding and trim on the installation job site.
The kit includes 1 quart of touch-up paint, 6 ounces end cut sealer applicator, 2 ounces nail concealer, (3) tips for the edger and (2) tips for the concealer, along with proper touch-up procedure instructions. The included tips help with precise application to minimize waste and avoid getting additional paint on the siding.
In general, expect to use 1 quart of touch-up paint for every 25 to 30 squares of siding. The average size house should require one paint kit per color.
Note that touch-up paint should always be tested on siding before use to confirm a close color match. Color will not be an acceptable match until 24 hours after application.
Touch up kit for use on the installation job site
Matches LP ExpertFinish SmartSide colors
Achieve professional results when covering cut ends, scratches, nails and more