P-CDRLAP38PF
SmartSide ExpertFinish 3/8" Cedar Texture Lap Siding
Engineered Wood Siding
MPN: P-CDRLAP38PF
P-CDRLAP38PF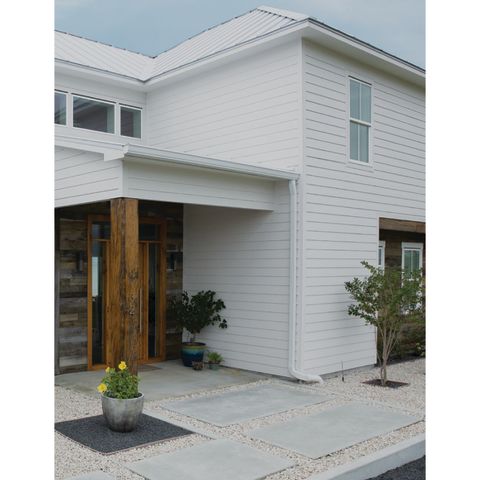 Application:

Engineered Wood Siding

Brand:

LP SmartSide

Sub Brand:

38 Series

Texture:

Cedar

Used for:

Lap Siding

Coverage:

9.33 sq ft per piece

Exposures:

7 in

Installation method:

Leave a 3/16 inch gap between butt joints and between trim/lap joints

Made in US:

True

Manufacturer:

LOUISIANA PACIFIC

Material:

Engineered Wood Strand
Create the look you want with LP® SmartSide® Lap Siding. This engineered wood siding stands up to extreme weather, making it a natural, durable choice for structures in any region. Plus, it's the perfect companion cladding for structures partially finished in stucco, stone and brick.
LP® SmartSide® products combine the rich cedar-grain texture of traditional wood siding with the advanced performance of treated engineered wood — to help extend its curb appeal for years to come. Get the bold look of cedar without many of the worries.
Prefinished in your choice of 16 colors, this 3/8 inch thick, 8-inch lap siding comes in 16-foot lengths. It will take (11) pieces to cover 1 sq (100 sq ft). A 20 sq (or 2,000 sq ft) house would require (220) pieces.
When installing prefinished SmartSide lap siding, remember to leave a 3/16 inch gap between butt joints and between trim/lap joints.
One of the most durable lap siding options in the market today
The bold look of cedar without many of the worries
Pre-finished and ready for installation
16 foot lengths can result in faster installation and fewer seams
Works and cuts like real wood – no special tools required