AMN49606
Amana Tool 1/2 in Shank 2 Flute Carbide Beading Bit with Ball Bearing Guide, 1 in x 2-7/16 in
Drills & Bits
MPN: AMN49606
AMN49606
MFG #: 49606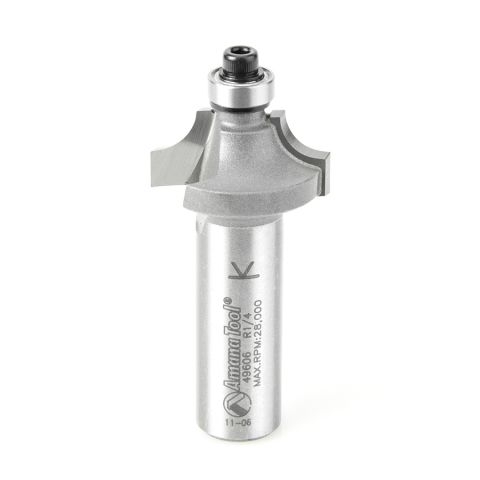 Brand:

Amana Tool

Compatible tools & materials:

47702 replacement bearing

Cutting height:

1/2 in

Diameter:

1 in

Item Recyclable:

True

Item Returnable:

True

Length:

2.44 in

Made in US:

False

Manufacturer:

AMANA TOOL CORP

Material:

Carbide

Number of flutes:

2

:

AMN49606

:

49606
Cut a quarter-round shape bounded by fillets, known as a bead, in one pass by this bit.
The width of one fillet is set by the pilot bearing size, while the other is controlled by the depth of cut.
A beading bit can be transformed into a corner rounding bit by changing the bearing (& vice versa).
2 flute, creates a round over with a bead controlled by the depth of cut
Diameter (D) 1; Radius (R) 1/4
Cutting Height (B) 1/2; Shank (d) 1/2
Overall Length (L) 2-7/16; Replacement Bearing 47702
Flutes 2; D1 3/8