AMN57130
Amana Tool 1/2 in Shank 2 Flute Carbide Undermount Bowl Solid Surface Router Bit, 2-1/4 in x 3-1/4 in
Drills & Bits
MPN: AMN57130
AMN57130
MFG #: 57130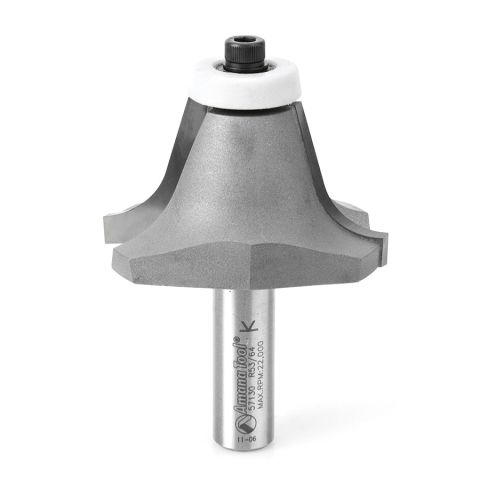 Brand:

Amana Tool

Compatible tools & materials:

Corian® Sink and Bowl; 47726 replacement bearing

Cutting height:

1-1/4 in

Diameter:

2.25 in

Item Recyclable:

True

Item Returnable:

True

Length:

3.25 in

Manufacturer:

AMANA TOOL CORP

Material:

Carbide

Number of flutes:

2

Used for:

Undermount applications of Corian® sink and bowl #'s 802S, 804S, 805S, 809S, and 871S

:

AMN57130

:

57130
These bits prepare and/or finish counter-top edges in conjunction with undermount bowl installations.
The round over and ogee bits trim and profile the counter-top edges after the bowl is mounted.
The bevel bit trims the sink cut-out flush with an installed undermount bowl, but it also can be used with a template to prepare a sink cut-out for a bevel-mount bowl. All these tools can be used for undermount applications of Corian® sink and bowl #'s 802S, 804S, 805S, 809S, and 871S.
Diameter (D) 2-1/4; Angle (a°) 18°; Radius (R) 9/16
Cutting Height (B) 1-1/4; Shank (d) 1/2
Overall Length (L) 3-1/4; B1 1
Type Round Over; Replacement Bearing 47726
Flutes 2; A 3/4