AMN55400
Amana Tool 1/2 in Shank Carbide Tongue and Groove Shank Assembly, 1-5/8 in x 3 in
Drills & Bits
MPN: AMN55400
AMN55400
MFG #: 55400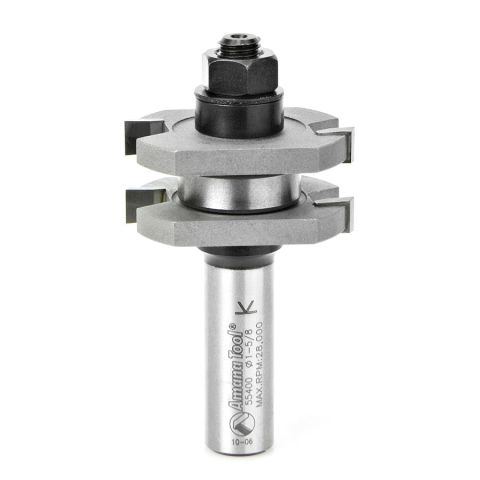 Brand:

Amana Tool

Compatible tools & materials:

Table-Mounted Router; (2) 47708 replacement bearing

Cutting height:

3/4 in

Diameter:

1.625 in

Includes:

Arbor with an integral shank, two identical, removable slotting cutters and a pair of bearings

Item Recyclable:

True

Item Returnable:

True

Length:

3 in

Made in US:

False

Manufacturer:

AMANA TOOL CORP

Material:

Carbide

Used for:

Cut perfectly fitted tongue-and-groove joints on stock between 1/2 in and 3/4 in thick with a table-mounted router and this assembly

:

AMN55400

:

55400
Cut perfectly fitted tongue-and-groove joints on stock between 1/2 in and 3/4 in thick with a table-mounted router and this assembly.
The tool consists of an arbor with an integral shank, two identical, removable slotting cutters, and a pair of bearings.
To cut tongues, sandwich one bearing between the two cutters (as in drawing A). To cut slots, mount one cutter between the two bearings (as in drawing B). Can be used on 1/2 in through 3/4 in thick material.
Diameter (D) 1-5/8; Cutting Height (B) 3/4
Shank (d) 1/2; Overall Length (L) 3
B1 1/4; T 1/4
Replacement Bearing 47708(2); Material size 1/2" through 3/4" thick
C 3/8; # Wings 2