AMNMD10401
Amana Tool A.G.E. Saw Blades Circular Saw Blade, 10 in x 40T TCG
Saw Blades
MPN: AMNMD10401
AMNMD10401
MFG #: MD10-401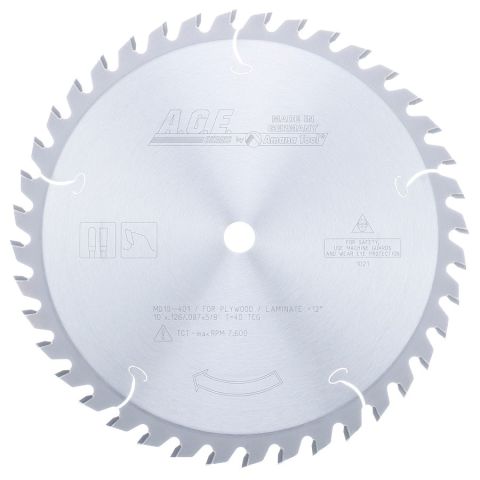 Brand:

Amana Tool

Compatible tools & materials:

Plywood and Single-Sided Laminates

Diameter:

10 in

Item Recyclable:

True

Item Returnable:

True

Manufacturer:

AMANA TOOL CORP

Material:

Carbide

Size:

0.126 in Kerf

Thickness:

0.087 in

Used for:

Clean cuts in plywood and single sided laminates

:

AMNMD10401

:

MD10-401
These blades are specifically designed for clean cuts in plywood and single-sided laminates.
The greater number of teeth, triple-chip grind, and 10 to 12 deg hook angle provide an excellent balance between feed resistance and finish.
To get a chip-free edge on both top and bottom sides of double-sided laminate, it is recommended to use a scoring blade (see page 12) along with these blades; or see pages 17-19 for blades which are specifically designed for double-sided laminate.
(D) Diameter: 10 (254 mm)
40 Teeth
5/8" Bore (d)
Hook Angle 12°; Kerf (B) .126 (3.2mm); Max RPM 7,600
Grind TCG; Plate (C) .087 (2.2mm)