AMNMD10728
Amana Tool A.G.E. Saw Blades Solid Surface Circular Saw Blade, 10 in x 72T
Saw Blades
MPN: AMNMD10728
AMNMD10728
MFG #: MD10-728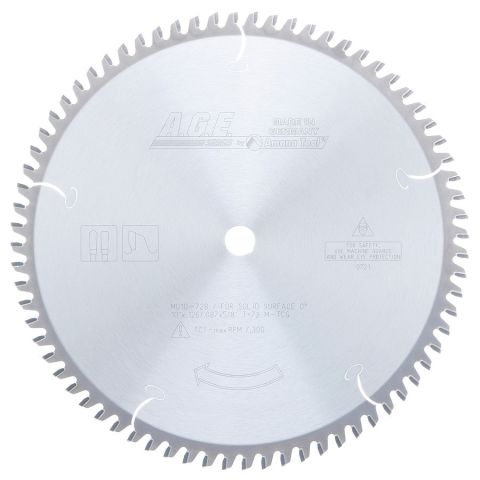 Brand:

Amana Tool

Compatible tools & materials:

Avonite®, Dupont Corian®, Wilsonart®, Gibralter®, Earthstone®, Fountainhead®, Surrell®, Staron®, Plastic Laminate, Plexiglas®, and Other Acrylic Based Material

Diameter:

10 in

Item Recyclable:

True

Item Returnable:

True

Made in US:

False

Manufacturer:

AMANA TOOL CORP

Material:

Carbide

Size:

0.126 in Kerf

Thickness:

0.087 in

Used for:

Cutting solid surface materials

:

AMNMD10728

:

MD10-728
Specifically designed for cutting solid surface materials such as Avonite,® Dupont Corian,® Wilsonart,® Gibraltar,® Earthstone,® Fountainhead,®Surrell,® Staron,® plastic laminate, Plexiglas® and other acrylic based materials.
The modified triple chip grind is especially configured to leave a swirl-free cut in solid surface materials.
Thicker than normal steel plates reduce vibration that degrades the cut and shortens tool life. Suitable for a variety of saw configurations.
The hook angle virtually eliminates self-feeding when used on radial arm saws.
(D) Diameter 10 (254mm)
Teeth 72
(d) Bore 5/8
Hook Angle 0°; Kerf (B) .126 (3.2mm); Max RPM 7,300
Grind M-TCG; Plate (C) .087 (2.2mm)