REV59610CR52
U-Shaped Tray Divider
Promotions, Closeouts & Specials
MPN: REV59610CR52
REV59610CR52
MFG #: 596-10CR-52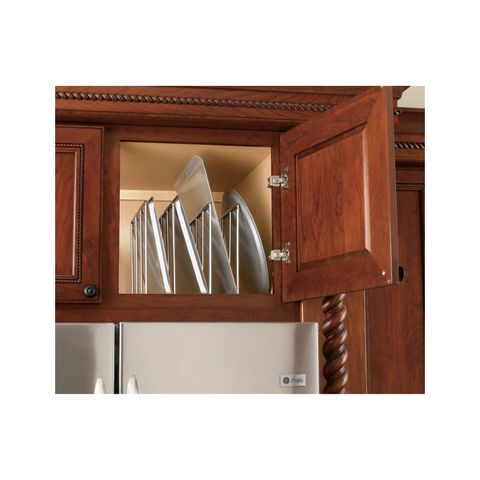 Brand:

Rev-A-Shelf

Color:

Chrome

Depth:

11.875 in

Dimensions:

3" W x 11-7/8" D x 10" H

Finish:

Wire

Height:

10 in

Includes:

(4) mounting screws

Installation method:

Simple installation with only 4 screws. Tray divider mounts to cabinet floor.

Item Recyclable:

Yes

Item Returnable:

Yes

Made in US:

No

Manufacturer:

REV-A-SHELF INC

Material:

Chrome plated wire

Used for:

Organizing bakeware

Weight:

2.21 lb, 2.5 lb

Width:

3 in

:

REV59610CR52

:

596-10CR-52
Huge savings on this product February 5 through March 31, 2021! No promo code required.
Storing platters and cookie trays just got easier with the U-Shaped Tray Divider from Rev-A-Shelf. Use one or more to create custom storage space in either wall or base cabinets.
The sturdy construction and beautiful chrome finish provide durability and style while the easy four-screw installation gets you organizing cabinets in seconds.
U-shaped tray divider installs easily with 4 screws
Use 1 or more to create storage space in cabinets
Organizes bakeware
Limited lifetime warranty
Material is chrome plated round wire