REV4SDI18
4SDI Series Wood Spice Drawer Insert
Drawer Organizers
MPN: REV4SDI18
REV4SDI18
MFG #: 4SDI-18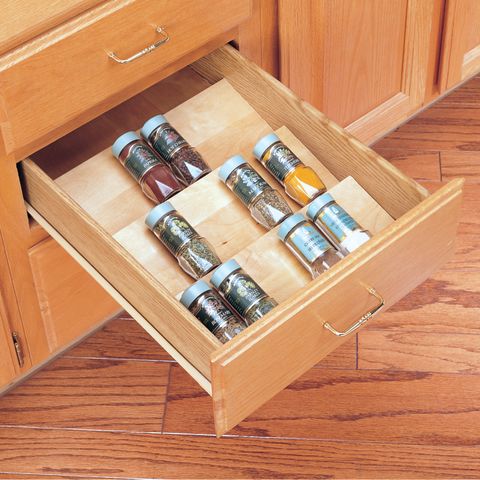 Brand:

Rev-A-Shelf

Color:

Maple

Depth:

19.75 in

Dimensions:

16" W x 19-3/4" D x 1-1/2" H

Finish:

Wood

Height:

1.5 in

Item Recyclable:

True

Item Returnable:

True

Made in US:

True

Manufacturer:

REV-A-SHELF INC

Material:

Wood

Width:

16 in

:

REV4SDI18

:

4SDI-18
Keep spices conveniently stored in a drawer by the stove with Rev-A-Shelf's Wood Classic Spice Drawer Insert. With a tiered configuration for total organization and easy access, the maple hardwood spice drawer inserts are coated with a UV-Cured clear finish that ensures a suitable match to any cabinet. The 4SDI Series can be customized to fit various drawer sizes up to a Base 24".
Designed for 24" base cabinets BLUMOTION soft-close Stackable for use in a pantry applications Easily adjustable drawer height locations for storing tall and short items Image shown is 4PIL-18SC-3. Actual product is wider (See specifications for details) Contains (1) Pilaster Kit, (12) upright buttons, (2) 4" H wood drawers, (1) 7" H wood drawer, (8) metal dividers, (4) wood pegs, (3) pair of Blum slides
Made of Maple with a UV cleared finish to match kitchen drawers Tiered configuration for total organization & easy access Can be trimmed to fit various drawer sizes up to a Base 24"