AMNMD220T643
Amana Tool A.G.E. Saw Blades Circular Saw Blade x 64T
Saw Blades
MPN: AMNMD220T643
AMNMD220T643
MFG #: MD220-T643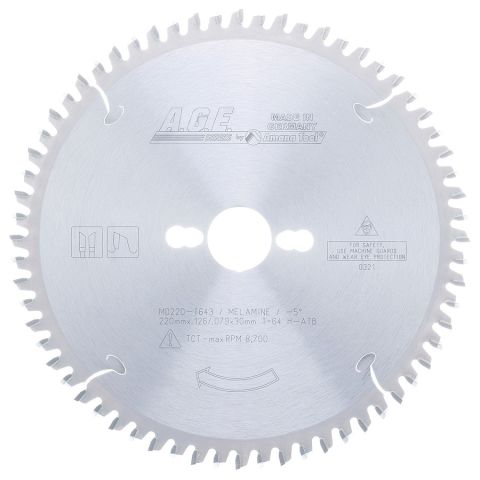 Designed for cutting double-sided melamine and veneered sheet goods on saws without a scoring unit.
The H-ATB tooth geometry slices cleanly through fragile coatings and laminates.
The high bevel will not "violate" the bottom laminate upon exiting the cut, which causes blow-out.
Extra hard sub-micrograin carbide tips for long life. Recommend using a zero clearance throat plate.
(D) Diameter (220mm)
Teeth 64; (d) Bore 30mm
Hook Angle -5°; Kerf (B) .126 (3.2mm)
Max RPM 8,700; Grind H-ATB
Pinholes 2/10/60, 2/7/42 & 2/9/46; Plate (C) .079 (2.0mm)