OMERHVB400SS
Omega National Products 400 CFM Stainless Ventilator
Range Hoods & Ventilators
MPN: OMERHVB400SS
OMERHVB400SS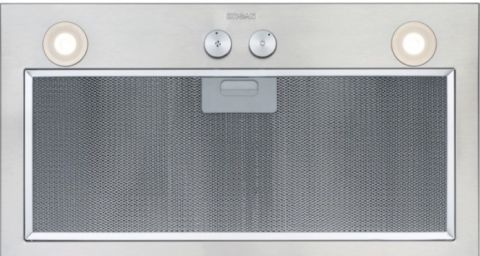 The RHVB400SS is a new Broan Ventilator from Omega National Products, designed to replace RHVBB20SM ventilators. This new unit will fit the same liners that come with current Omega National Products wood hoods.
This Energy Star rated stainless steel range hood ventilator features a quick-release aluminum mesh filter that is dishwasher safe and Heat Sentry technology that automatically turns on when excessive heat is detected. The unit also has a Master On-Off switch to allow for meeting future standards.
Bright LED lighting with a color temperature of 3,000K delivers more than 250 Lumens with bulb life greater than 25,000 hours.
Ducting can be Vertical 6" round or 3-1/4" x 10".
Power requirements: 120 VAC, 60 Hz – 2.3 AMPS.
400 CFM ventilator replaces model RHVBB20SM
Max CFM 450 (pre-installation); HVI certified CFM 400 on High (3-1/4 x 10 rectangular duct) and 390 on High (6" round duct)
Sones on High: 6 on High speed
3-Speed rotary switch
Energy Star rated