P-REVA11B38C292
4WCTM Series Door Mount Waste Container (1-3/4" Face Frame)
Pull-Out Waste Containers
MPN: P-REVA11B38C292
P-REVA11B38C292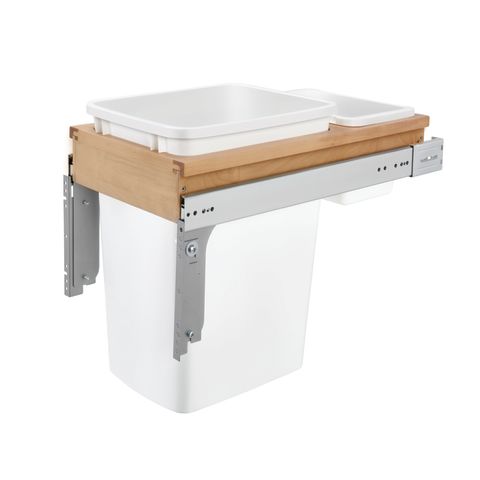 Made from solid wood (maple) construction, the Top Mount Pullout Waste Containers are designed for absolute sturdiness with front side mounting, rear adjustable mounting brackets for variances in cabinet depth, pre-assembled door mounting brackets and full-extension, ball-bearing, 150 lbs. rated over-travel slides.
Designed for 1-3/4" face frame application, this unit includes a patented door mount kit to fit almost any door style.
In addition, the single 35 Qt. waste container system includes a short polymer bin that provides an extra storage space for garbage bags.
Maple wood construction creates absolute sturdiness with front side mounting
Rear adjustable mounting brackets for variances in depth
Features 150# rated over-travel ball bearing slides with pre-assembled door mount brackets
Soft-Close units feature floating bracket that ensures soft-close functionality even when the cabinet shrinks & swells
Single container systems feature a short polymer bin for garbage bag storage