1. Cabinets
The kitchen or bathroom cabinets make a huge impact on the look and operations of the room. Not only do they provide the necessary storage space needed for these areas, but they often occupy a large amount of visual space. Making it important to select the right cabinet color and design that will create the rooms overall style and tone. To help you find the perfect cabinet for your home and decor, we provide various options from the top cabinet brands.
Material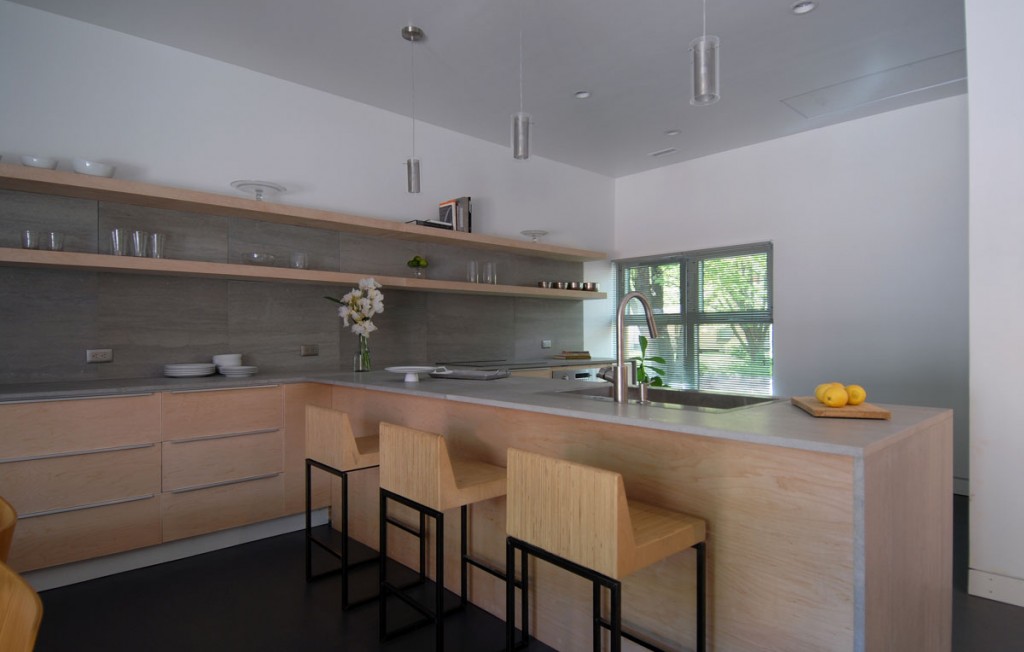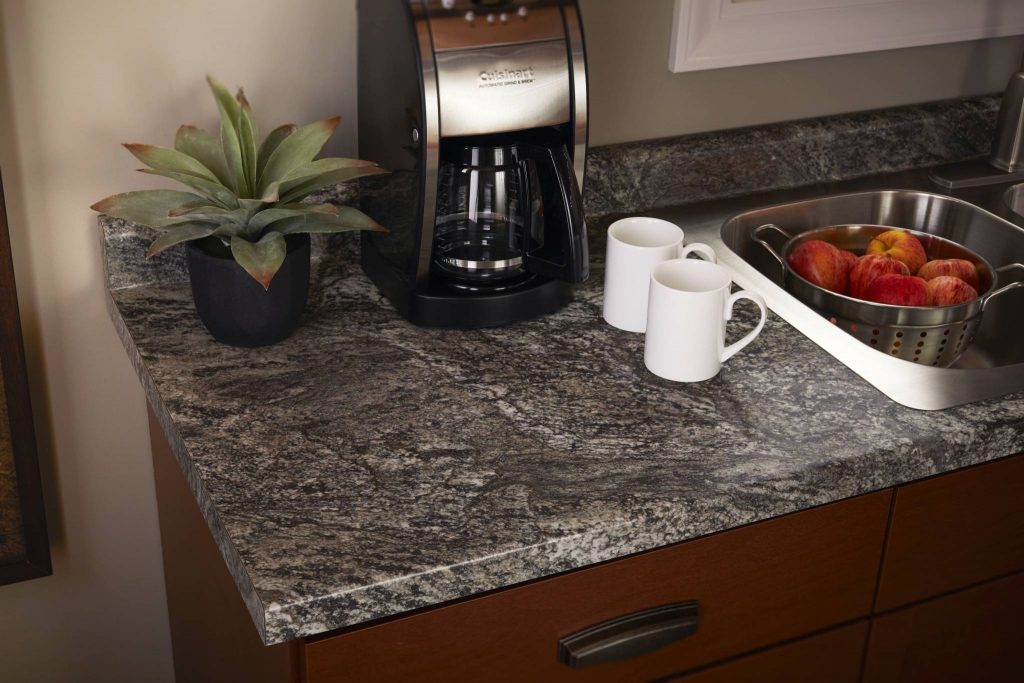 Hardwood Plywood
Hardwood plywood consists of a panel made from layers of wood veneer or veneer in combination with lumber core, particleboard core, MDF core or hardboard core. Cabinets made from hardwood plywood are a great choice for individuals that want an efficient and environmentally-friendly material. It also has a beautiful grain and appearance. Hardwood plywood is strong and durable, so it will last for years. We offer hardwood plywood from Columbia Forest Products, the largest manufacturer in North America, where you will surely find the right option to fit your design.
Imported Plywood
Wood products from China, Russia, Indonesia, and Malaysia is imported plywood. This material offers many of the same characteristics as hardwood plywood but comes in fewer species and finishes. It is typically priced under domestically-produced hardwood plywood. Imported plywood may be perfect for various projects and applications. We provide products from Far East American. They are an industry leader specializing in imported plywood products that are of high quality and durability.
Thermally Fused Laminate
Laminate panels are made by using heat to fuse a melamine plastic sheet of décor paper to particleboard or MDF. Cabinets made from thermally fused laminate panels offer far greater style options and a new, modern look compared to cabinets made of traditional wood. Arauco, Panolam, and Roseburg are all manufactures that provide laminate cabinet products that provide superior performance, function and design.
Material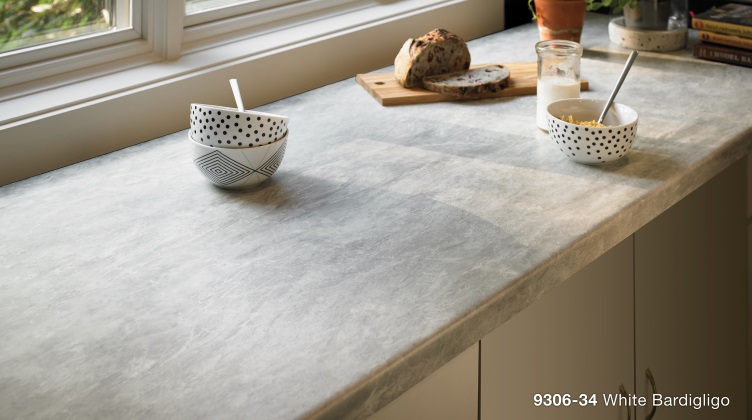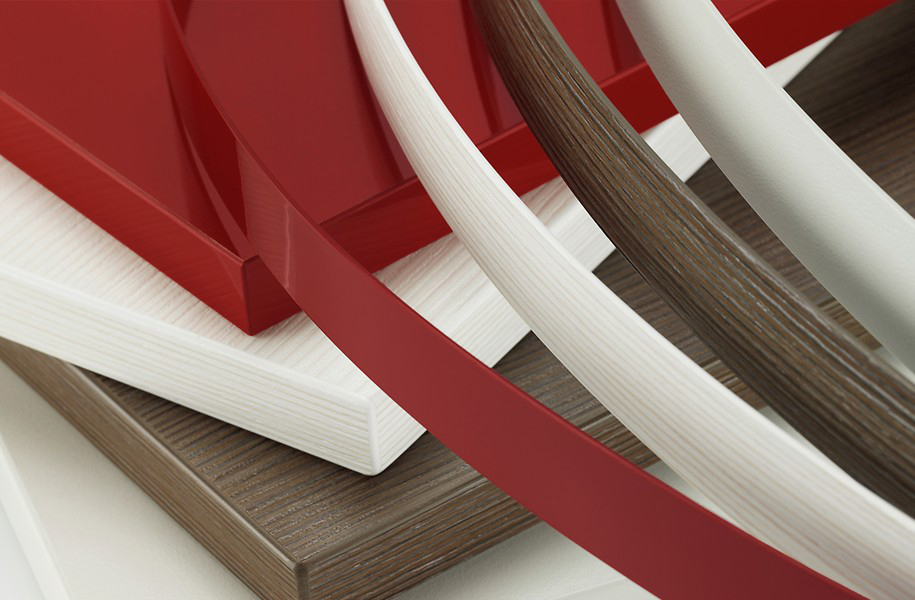 Laminate & Solid Surface
The most commonly used material for kitchen and bathroom countertops is laminate. Laminate is a material made of plastic layers that are bonded to particleboard or craft paper in order to create a solid surface. A laminate countertop is often used due to its low cost and high resistance to heat. It's heat resistance is perfect for the kitchen due to cooking activities that typically involve hot pots or pans and for the bathroom due to hot hair styling tools used. Laminate is also a great countertop material due to the wide variety of color and style options available. These designs include surfaces that resemble the highly sought after look of granite, marble, and quartz. We provide laminate and solid surface options from the brand Formica, which is a large laminate manufacturer, so much that laminate is often referred to as "Formica". Formica Laminate provides an incredible range of colors and patterns that can fit the most traditional to the most modern of home styles. Changing the countertop can truly transform the look of an entire room and that is by far the easiest to accomplish with laminate.
Butcher Block
A butcher block countertop gives your kitchen a professional look that is warm and natural. Butcher block is made of straight cuts of wood that are glued together into thick slabs. These hardwood countertops are highly durable and provide a very sturdy and stable kitchen work surface. These wood countertops are beautifully versatile as they can be used raw or stained to truly fit a traditional, rustic or modern style. They do although require some maintenance because wood gets scratched, cut and will need to be oiled to prevent cracking. Our John Boos brand butcher block countertops are made of high-quality kiln-dried wood that resists warping and shrinking. These wood countertops offer a natural look that is sure to inspire some amazing meals.
Accessories
Edgebanding
Edgebanding is used to cover the exposed sides of materials such as plywood, particleboard, or MDF on which high-pressure laminate is affixed. It increases the durability of a countertop and gives the appearance of a solid material. Amerhart carries a variety of options, including PVC edgebanding from REHAU, wood edgebanding from SR Wood, pre-glued edgeband from EdgeMate®, and peel and stick edgebanding from FastCap™.
Balancing Backer
A single-ply, extreme flexibility sheet, high quality balancing backers – like those from PolyBak – are used as a backer sheet on substrate panels faced with high-pressure laminates or other decorative overlays. PolyBak offers:
Improved balancing and dimensional stability
Excellent moisture resistance
Class A flame spread rating
Formaldehyde-free construction