The Beauty of Wood Without the Maintenance
If you want a high-quality deck you can grow into that will age gracefully and require very little maintenance, composite decking is a great solution. Trex is the world's #1 decking brand and the inventor of wood-alternative composite decking.
Made with recycled materials like wood waste and plastic sacks, composite deck boards feature the beautiful look of wood but do not need sanding, painting or refinishing. They are generally weather-resistant and come in a variety of colors and styles.
Th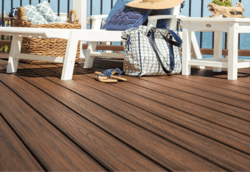 ree tiers of decking products provide a comprehensive range of easy, low-maintenance options:
Transcend—Elevated aesthetics paired with the highest level of performance
Select—A balance of luxury and affordability
Enhance—All of the durability of composite at a price that competes with wood

Express Your Style with Deck Railing
Railing is the most outwardly visible component of any deck, and it's easy to achieve the look you want thanks to a variety of easily configurable composite and aluminum railing packages. For extra time savings, you can even find Trex Signature Aluminum Railing complete pre-ssembled panels and posts with pre-mounted brackets.
Accessories like gates, ADA hand rail, post caps and privacy panels are also available in a variety of colors and styles to meet your budget while offering added customization.
Give Your Deck Curve Appeal!
To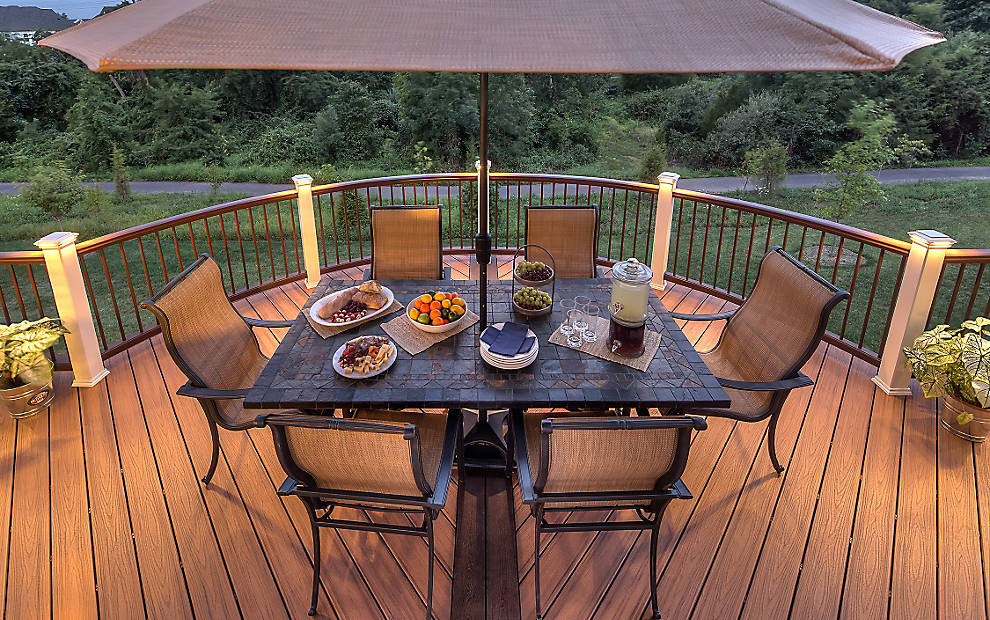 add even more of your own personal style, Amerhart's Custom Fabrication division specializes in creating unique deck designs. From custom inlays to curved decking and railing, we've got the equipment and expertise needed to set your outdoor space apart.
Our Fabrication team can curve Trex 12' square edge deck boards and 12' fascia boards, as well as Trex 6' and 8' rail kits.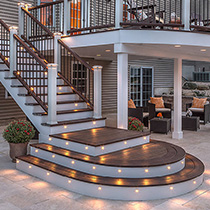 With the right light, you can take any outdoor space from invisible to inviting. LED deck lighting from Trex adds energy-efficient nighttime safety and ambiance to your outdoor space. Post cap, deck rail, stair riser, and recessed deck lights are the perfect complement to your composite deck.
Easy to build into a new or existing deck, Trex Deck Lighting is even easier to set up with the Trex LightHub® connection system. To take the look up another notch, try the optional timer and dimmer for total lighting control.

Expand Your Outdoor Living Space
Trex RainEscape is a revolutionary under-deck drainage system. It uses a network of troughs and gutters to divert water from the deck and shields the area below the deck from rain, snow, sun, and other elements.
Easy to install and backed by a 20-year warranty, RainEscape provides 100% protection of the deck substructure from moisture. Easily double your outdoor living space by adding an under-deck ceiling and brighten the area with RainEscape Soffit Lights.
Choose the Right Deck Fasteners
The world of deck fasteners has evolved in tandem with the materials they are tasked with supporting. While the need for code compliant products and building practices has not changed, the options available have exploded.
Hidden fastening and hidden deck clip systems for composite decking provide the same level of structural integrity as traditional screws with the added benefit of being nearly invisible.
Fascia systems are designed to take into account the expansion and contraction of composite and PVC deck fascia boards with changes in temperature. A deck fascia system—like the Deckfast® Fascia System from Starborn Industries or FastenMaster's Cortex for Fascia Hidden Fastening System—utilizes a pre-drilling tool to create an oversized hole for the fascia screw so that the fascia board hangs from the screw and can expand and contract without putting a large amount of force on the fastener.
Traditional deck and trim screws for composite, PVC, and wood decking are available to match colors from select brands. Check out FastenMaster's TrapEase3 AutoFeed Composite Deck Screws for an efficient composite deck fastening system.
Installing a Foundation System
Permanent structures like decks require supports and footings that are made from solid concrete. Make sure to check your local codes as factors such as a minimum diameter and minimum depth of footings are critical in making a decision during this process. Footings must also be set below the frost line in order to prevent any movement through yearly freeze-thaw weather cycles.
When building your Trex deck, two foundation options are especially popular:
The Diamond Pier foundation system is a precast concrete block with holes that lock in four weight-bearing galvanized steel pins. These pins drive into the ground at a 45-degree angle, transferring the deck load to a larger area of undisturbed soil than traditional concrete footings.
Overall, the Diamond Pier system is the easiest and most efficient method for installing deck foundations. It does not require any heavy machinery or waiting for a certified installer and is code compliant out of the box. Contractors find that using Diamond Pier helps them finish jobs 3 days faster, allowing them to start the next project sooner.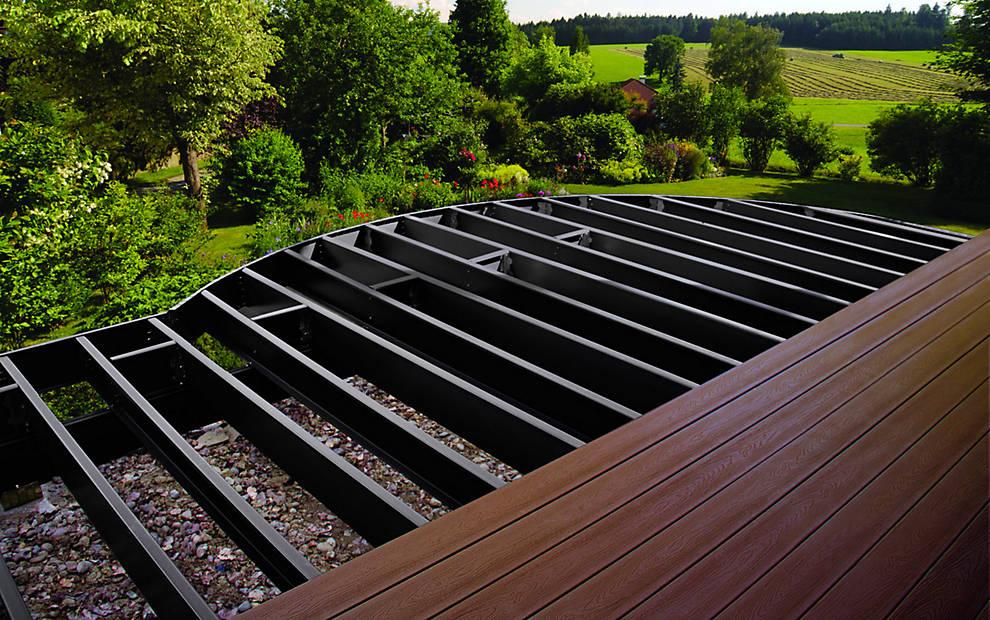 Trex Elevations is an under-deck framing system that creates a stable and consistently flat triple-coated steel substructure for a high-performance deck. Steel framing does not absorb water, dry out, split, shrink, or warp. It is lighter and stronger than wood, allowing for longer spans, fewer posts, and less obstructed views.
Steel has significant advantages over pressure-treated lumber. When properly installed it will greatly outlast a wooden frame. For medium to large projects or those using composite deck boards, steel is recommended as it makes for a deck that can survive almost anything.