2019 renovation trends for every room of the house
2019 renovation trends for every room of the house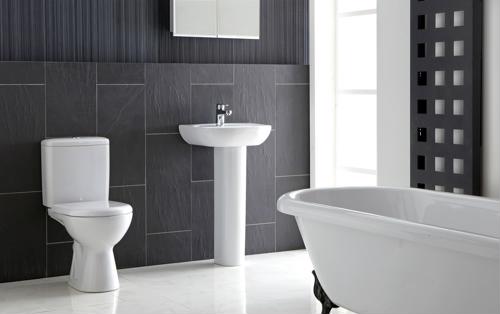 With the end of the year almost here, it's probably not feasible for contractors to take on any new jobs before 2018 comes to a close. However, that doesn't mean homeowners aren't thinking about the possibilities that 2019 will hold, necessitating that renovators look into the design trends that are likely to emerge in the year ahead.
As a contractor, a little extra homework now will help you get a head start on planning for new demands so you can surprise and delight prospective clients with innovative, stylish ideas. That should, reasonably, include an understanding of what people are likely to want for just about any room in the house, including the following:
Bathroom
This is often one of the most popular rooms in any home when it comes to renovation efforts, as people look to improve on the basics and give themselves and their guests a little extra comfort. One increasingly common trend these days, which is expected to continue into 2019, is using black as a primary color in a bathroom remodel. This year, gray was a fairly common color, but it seems people will want to go darker in 2019.
Drilling into the specifics, it seems that black is popular for lighting fixtures, borders around vanities and mirrors, and even tile. In addition, people seem to be gravitating toward matte finishes for these efforts.
That comes in addition to increased demand for more modern features like customizable smart lighting, high-tech shower heads. and faucets (brass and gold fixtures could make a big comeback in the year ahead) and more of an overall "industrial" look.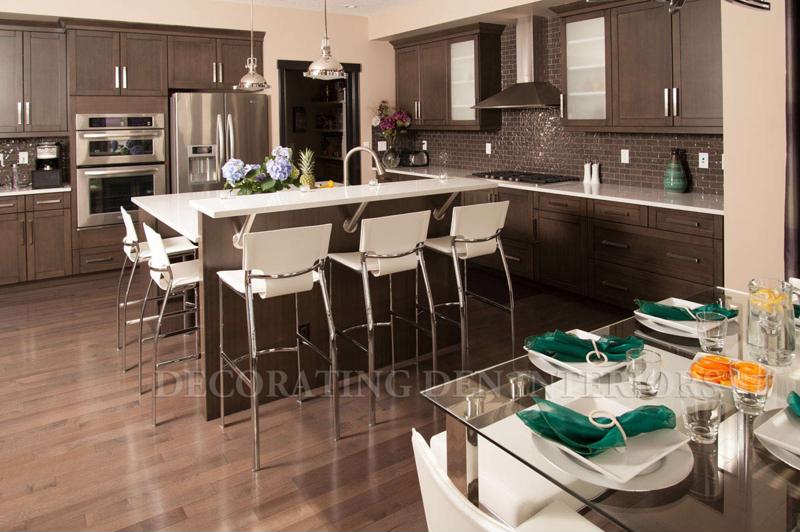 Many modern kitchen remodels include smart tech and dark tones.
Kitchen
Another popular room for remodels is, of course, the kitchen, and 2019 will bring no shortage of unique asks from interested homeowners. Perhaps the biggest demand from people looking to renovate this central room is going to be "smart everything." While they may have upgraded one or two appliances in the past, next year will be one in which people go all in on kitchens full of sensors, connected appliances, and so on.
This will include refrigerators that can alert owners – via an app – when they're running out of juice or if their milk and eggs may be about to go bad, as well as coffee makers that can be pre-programmed – also via an app – to brew specialty cups at specific times. That comes in addition to easy-to-control smart lights.
And like the bathroom, it appears darker cabinets are coming en vogue among the renovating set, as homeowners look to bring bold colors back into the kitchen. This comes at a time when more functional and unique storage space is sought-after as well, meaning renovators may need to think of better ways to utilize cabinet and drawer space. Along similar lines, sleeker designs and materials for all sorts of surfaces are catching on.
Bedroom
Unlike the kitchen and bathroom, however, the spaces where people spend the most time relaxing – including where they sleep – aren't going dark and bold, for obvious reasons. Instead, it seems as though people prefer bright, deep colors in the bedroom, and that trend will really come to the fore next year, according to Elle Decor. Specifically, "jewel tones" – to use designer Jeff Andrews' term – are where people's minds are heading, meaning they want emerald green, indigo, and aquamarine, for example.
People not only want those colors in terms of simply repainting a wall, but also using fabrics and accessories, as well as rugs, to really brighten up a bedroom, Elle noted. Furthermore, these color additions may be in the form of floral designs or geometric patterns, and people might even want to see wallpapers make a comeback.
Living room
A lot of those same ideas may also be applied to living rooms, where people will often spend hours with their families, gaming, or watching TV, according to Homes to Love. Bright colors, as well as muted grays and whites, are increasingly popular. It's also likely that people will be more than willing to mix and match complementary tones and textures throughout the room.
As with many other rooms – including the bedroom – smart technology is going to be seen as a must in a living room renovation. People want to enjoy maximum comfort and be able to change the lighting, temperature, and more from a tablet or phone while they're still sitting on the couch.
Of course, every home renovation project is different and contractors will need to consider a number of factors. With that in mind, the more they can do to advise homeowners about the options available and find a solution that's both desirable and workable, as well as in line with 2019's emerging trends, the better off all involved are likely to be.