3 top home renovation trends for 2019
3 top home renovation trends for 2019
Whether you consider your home aesthetic to be classic or modern, you might consider looking into popular trends when you're looking for something to spice up your décor and design. Depending on how in-depth of a home renovation you're up for (and your budget), there are plenty of things you can do to spruce up your living space. Here are some of our favorite renovation trends thus far in 2019:
1. Open kitchen shelving
One way to make your kitchen feel larger and brighter involves getting rid of your cabinets in favor of a more open shelving plan. This has been a popular renovation choice for 2019, as it's a cost-effective way to give the room a whole new look. If you're on the fence about whether or not this stylistic choice is right for you, try removing your cabinet doors for a few weeks to see how it changes the look of the room, making sure it doesn't disrupt your typical kitchen storage techniques.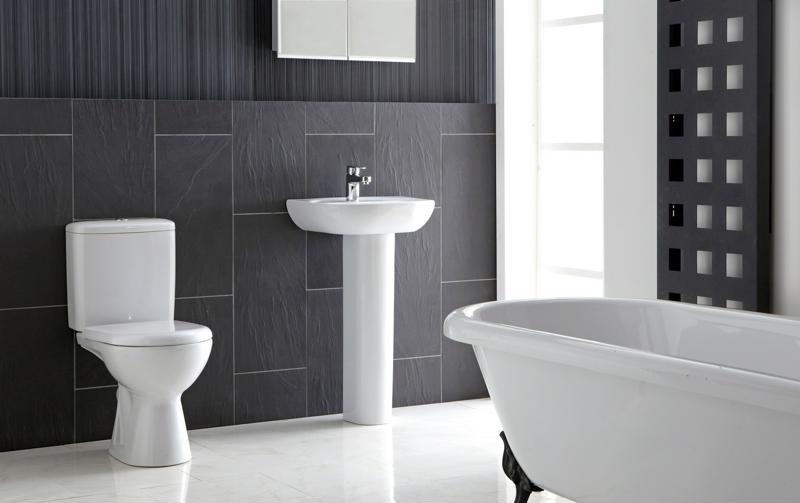 Contrasting light and dark colors adds depth and dimension to any room.
2. Get rid of all-white everything
Are you starting to get sick of your all-white bathroom? Sure, it looked sleek when it was brand new, but now it's starting to look a little too sterile. Plus, it's a great deal harder to keep white countertops and surfaces looking pristine than it is with your darker or more textured pieces. Painting your white cabinets with neutral shades like tan and beige, or bold tones like greys and blacks, makes your home look a lot less like a hospital room and more like a welcoming haven.
If you aren't quite ready to give up on your white furnishings, follow the advice of design expert Bobby Berk, a member of the Fab Five in Netflix's reboot of "Queer Eye." Bobby is known for contrasting light and dark colors in different rooms, especially kitchens, to add depth and dimension to a room. If you love your white marble countertops, complementing them with black cabinets makes the room look more visually appealing and allows both colors to pop against one another.
3. Custom shelving units
If you're looking for more storage and want to add a visually interesting detail to an open wall, a customized shelf can check all your boxes. Not only do shelving units fill space in a useful way, but they also allow you to be creative about what sorts of knick-knacks you'd like to display. Maybe you'd like to decorate your shelves with books, house plants, photos or all of the above.
What's great about customized shelving units is the fact that it adapts to your ceiling height. Nothing looks clunkier than a tall bookshelf that doesn't come close to the full height of a room with high, cathedral ceilings. Conversely, it's a shame when you buy a bookshelf that you think will make the perfect addition to your living room only to have it way too tall for your low, vaulted ceiling. By adding customized shelves to your space, there's no such thing as too short or too tall; whatever you get will be just right.