How to make your bathroom more eco-friendly
How to make your bathroom more eco-friendly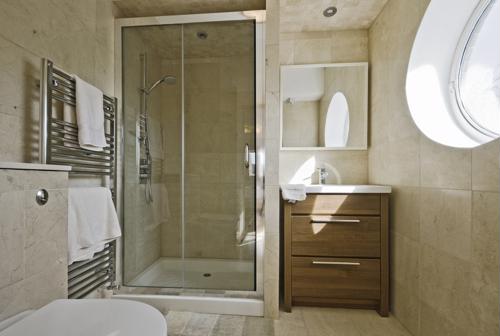 Green home improvement is in high demand as we focus more on sustainability, from our food habits to our houses. While bathroom remodels can be complicated and expensive - typically requiring outside help from plumbers, carpenters, and tile installers - a refreshed bathroom can be more energy-efficient and lower your water bill. Innovations in bathroom fixtures can decrease your eco-footprint and your utility bills. Here are five tips for an eco-friendly bathroom remodel that'll work for you and the planet.
Work with a contractor that has eco-friendly expertise
Before beginning a bathroom overhaul, make sure that an expert is working alongside you who is familiar with the products that will reduce energy and water use, says Elemental Green. A contractor with expertise in eco-friendly renovations can save homeowners time, headaches, and money with their knowledge of environmentally-friendly materials. Make sure that, as contractor and homeowner, visions for a finished project and passion for the environment mesh well.
Install a low-flow toilet and showerhead
Toilets use approximately 27% of the water consumed in your home, which is more than any other appliance or plumbing - even more than the washing machine, says Inhabitat. Toilets found in older homes can use up to a surprising 7 gallons per flush. Dual-flush toilets are a recommended choice - one button is for liquid waste, using around 0.8 gallons of water and the other, for solid waste, uses 1.6 gallons or less. Another eco-friendly choice is a low-flow showerhead. While taking shorter showers is an energy-efficient option, if you can't imagine limiting your shower to five minutes, a low-flow showerhead may be your best bet. Typical showerheads use between 5 and 8 gallons of water per minute but a low-flow head will bring that down to 2.5 gallons or less with an equal amount of water pressure. Low-flow showerheads help you save in two ways. The first is obvious, you'll use less water when you shower. Second is that you'll end up using less energy to heat your water. For a relatively inexpensive and easy upgrade, it'll help cut down costs and waste.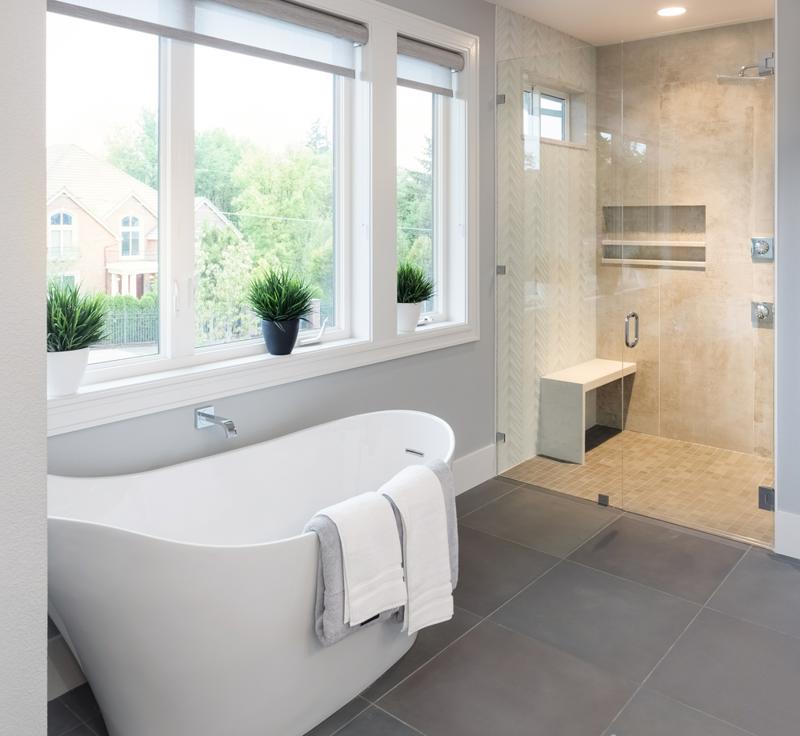 Typical showerheads use between 5-8 gallons of water per minute but a low-flow head will bring that down to 2.5 gallons or less with an equal amount of water pressure.
Use eco-cabinets and vanities
Materials that make up most conventional cabinets, like plywood, pressed wood, particleboard, and medium-density fiberboard use glue that contains formaldehyde, which is a known carcinogen. A good way to avoid formaldehyde, which off-gasses into the air, is by researching eco-cabinets and vanities that use safer materials. Look into using solid wood, recycled wood, reclaimed wood, Forest Stewardship Council® (FSC®) certified wood, and bamboo for your cabinets and vanities.
Change your light bulbs
If you haven't already considered the benefits of switching to LED light bulbs, now is the time. On average, an LED bulb consumes 80% less energy than its predecessors and it'll last about 25 times longer. On top of that, LEDs function at a lower wattage, which means that changing a single bulb can save you hundreds of dollars on your energy bill. As LEDs grow in popularity, so do the options available to choose from. You can find "warm LED bulbs" that'll illuminate your bathroom in the same warm tone that an old-fashioned incandescent bulb would.
Choose sustainable floor coverings
Long-lasting and easily cleaned, recycled-content ceramic tiles and natural linoleum are environmentally friendly choices for the floor, says Better Homes and Gardens. There are a wide variety of aesthetics to choose from to make the remodel fit to your tastes. Less conventional options include bamboo, cork, natural plasters, and eco-friendly concrete. Keep in mind that natural linoleum is a sustainable material but vinyl is not.
With a professional's help, an eco-friendly bathroom remodel can be easy and affordable. A lot of environmentally conscious choices won't break the bank but will end up saving you money in the long-run, thanks to being conscious of energy and water usage.