How your outdoor living space makes you healthier
How your outdoor living space makes you healthier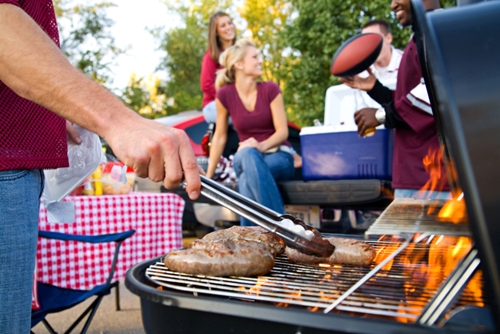 Everyone knows that relaxing out on your porch, deck or yard is a fantastic way to spend your time. Nothing says good times like grilling out on your deck with friends and family on a warm summer night. But did you know that there are actual health benefits to enjoying your outdoor living space?
Spend more time outside, feel better
The Outdoor Power Equipment Institute recently released an infographic highlighting some of the benefits of a home's outdoor space. Among the pluses, knowing and experiencing the outdoors makes us all-around happier and healthier. Being able to enjoy nature can help people recover from illness faster. For kids, playing outside can make them better learners, and also makes them less stressed.
"Experiencing the outdoors makes us happier and healthier."
Grass helps eliminate airborne pollutants, so breathe in the next time you're mowing that lawn. And if you've got a green thumb, use it! Gardening can reduce stress and relax you. Enjoying the outdoors can even make you nicer!
Indoor meets the outdoors
An article on Toll Talks highlighted the benefits of blending your indoor and outdoor spaces. According to the Toll Brothers, "Your home is your entire property, from your kitchen and living room, to your backyard and patio. By blurring the lines of what is interior and what is exterior, you increase your sense of home." Taking advantage of all of your space will help you to enjoy the many benefits of your outdoor living areas.
All in all, yards provide fun, safe and healthy places for kids, adults and pets to enjoy. Remember that when you're planning your next outdoor living project, because you're helping to improve lives!
Whether you need quality lumber, custom building products or some inspiration, visit the Amerhart page. Check out our product catalogs to see how we can help bring your outdoor living ideas to life.