Illuminating your outdoor living space
Illuminating your outdoor living space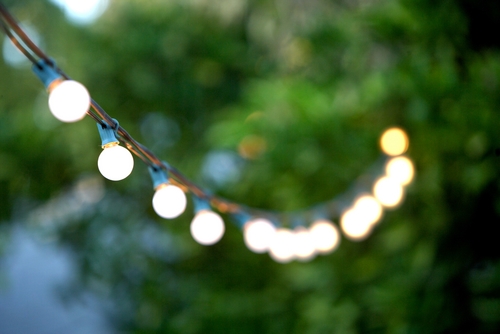 Thanks to composite decking material and outdoor furniture home owners are able to get more from their outdoor living spaces, whether entertaining friends, grilling, relaxing with a good book, or just watching the fireflies at night. But you're going to need more than fireflies to illuminate your outdoor living space - that's why there's outdoor lighting.
Safety first
Adding outdoor lighting on stairs and railings can make a deck safer by improving visibility at night. With a properly lit deck, the fun can keep going long after the sun goes down, without worrying about guests tripping or stubbing their toes. LED lighting also remains cool, unlike older incandescent or fluorescent bulbs, making it ideal for your deck and patio.
"Adjustable lights can set any kind of mood you'd like."
Save your energy
Some homeowners may worry that outdoor lighting can jack up the electricity bill. However, today's LED lights are energy efficient, lasting up to ten times longer than compact fluorescent lights, and even more so than traditional incandescent bulbs, according to Earth Easy. Overall, they're much more cost-efficient.
Get a splash of light
String lights are beautiful all year long, not just during the holiday season! A string of lights can hang over your outdoor living area, drape from railings or shine from a patio umbrella. A light string is an affordable, versatile way to add warm lighting to any outdoor space, creating a more inviting ambiance for dinner parties on warm nights.
Emphasizing focus areas
A cordless LED ball of light can go anywhere in your outdoor living area, and can be used as an accent piece for your favorite spots. You can organize these accent lights however you'd like to direct attention to a focal point on your deck or patio.
Entertaining and atmosphere
Are you looking forward to enjoying your outdoor living space with family and friends? Of course you are! You want your guests to feel welcome and comfortable. Use lights to make it more inviting and lively. No grill master can work in the dark, after all. Adjustable lights can set any kind of mood you'd like, whether you're looking to light it up for a party or keep it mellow.
Lighting your landscape
If you've invested in landscaping, why stop at enjoying your beautiful yard only during the day? Landscape lighting can help you identify boundaries at night, but can also offer accents to the manicured and trimmed flora in your outdoor space.
Staying durable
You probably won't get many rain or snow storms inside the house well, we sure hope not! So your indoor lights don't need to be quite so tough. Your outdoor lighting should be more durable though, because it's going to need to be able to put up with any type of weather that's out there.
Whatever your vision is for your outdoor living space, Amerhart can help make it happen. In addition to LED lighting, our product catalogs feature lumber, composite decking material siding, and more.