Making a shed more than just a shed
Making a shed more than just a shed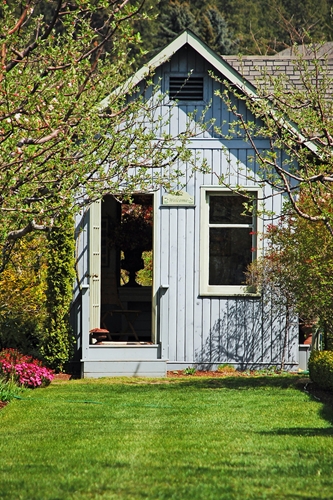 A shed can be used for so much more than housing a lawnmower. Most sheds are just simple wooden planks and a concrete floor, but with a little imagination, good lumber and custom fabrication, you can add some pop to any backyard. Whether the yard already has a boring old shed or you're thinking of building one from scratch, these ideas will give you a little inspiration for your project.
A simple tool shed doesn't have any need for heating or insulation. If people are going to be spending time there year round, that's an area that will need an upgrade. Since they're usually not insulated, many old sheds develop cracks and crevices, making them less comfortable for people and more inviting for critters.
Man cave
Turning a shed into a man's sanctuary is all about the accessories. An ideal man cave will need power for a mini fridge, neon bar signs and flat-screen TV. If the man cave is storing a nice TV and other equipment, it should have at least simple security features like a strong door with a lock.
Tiki bar
Maybe you've always wanted to turn any backyard into a tropical oasis. Or maybe you just listen to too much Jimmy Buffet. The tiki bar is a simple structure. The roof and accessories are what set it apart. For the roof, you can use old tin roofing or thatched palm leaves.
An insulated shed with lots of light could be used as a home greenhouse.
Greenhouse
For the aspiring gardeners, a greenhouse can help give plants a head start before it warms up outside. The greenhouse is going to need insulation so it's always warmer than the outside. It's also going to need ample sunlight, so large windows and skylights will be ideal.
Office
Okay, this option isn't nearly as exciting as a tiki bar or a man cave, but since more and more people are working from home these days, a real home office could be extremely useful. A detached home office like this will need to have Internet access and be clean and insulated well enough that it's safe for a computer.
Outdoor shower
After a long summer day at the lake, the last thing you need is sand or mud everywhere in the house. Obviously an outdoor shower will need water. You'll also want to use lumber that can withstand the moisture. Composite decking is a good choice for the floor, since it can handle the moisture and it won't splinter, making it ideal for bare wet feet.
Whatever your American Dream will look like, Amerhart can help you build it! At Amerhart, we offer custom fabrication, composite lumber, and service that goes beyond the order.