Steel vs. Vinyl: A side by siding comparison
Steel vs. Vinyl: A side by siding comparison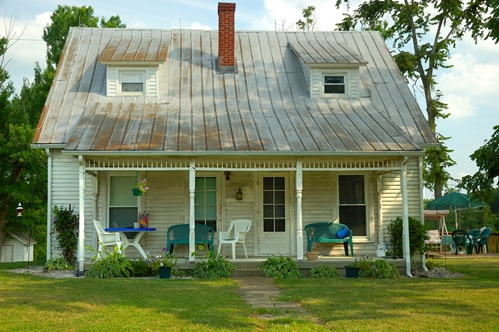 With weather mellowing, homeowners can venture out and look closely at their exteriors. As you make decisions about different construction projects, try and compare different types of siding to see which will work best. Amerha​rt offers both Rollex Steel and CertainTeed Vinyl siding, but which is right for your build?
If you need help deciding, here are some basic ways to compare each type.
Material
First of all, there's the general quality of the siding material to consider. Vinyl and polymer are popular choices due to their on-trend style options, adaptability, and durability. You may be familiar with these options, but you might not know that it can count as "green," as CertainTeed's CedarBoards panels do. Nearly three-quarters of these pieces can contain recycled substances.
This isn't to say that vinyl is the only substance that can blend in. Steel siding can also match the home around it, and bring all of its strengths and advantages with it. And it's environmentally friendly, too, as it can reduce heat absorption, lowering heating and cooling costs to the homeowner.
Durability
Steel has an obvious edge in durability: Rollex Aurora siding can not only withstand high winds, but also keeps out water, surface-level cracks, and dirt. If there's stormy weather to think about, steel siding is a great choice.
But vinyl brings some durability perks as well. It's certified to be fade-resistant and carries a long history of industry respect. That means there's a lot of information out there to check on and verify whether or not this siding will meet your standards for strength.
Style
Here's one of the biggest reasons to choose vinyl. It boasts a staggering amount of style options, including trim, cedar shingle replication, and a large color library. The emphasis on customization can also be a big help when dealing with tricky orders.
In contrast, the steel siding may not have the same range of colors but it still comes in various attractive shades, such as forest green, barn red, and seaport blue. It can also have a simulated wood grain and a clean fit to help it feel natural. For a balance of presentation and strength, steel siding could be the right project choice.
Cost
Steel is the more costly of the two choices here, though the bigger price tag comes with extra features. These include special warranty options, such as hail coverage for 50 years and chalk/fade protection for 35 years.
CertainTeed Vinyl Siding doesn't have the same program, but it does come with special assurance and industry clout from being a top choice for many years.
Installation/Maintenance
Both of these siding types are easy to install. CertainTeed panels have a reported 25 percent faster install time due to its built-in fastening system, while Rollex Aurora steel siding is also simple to put together, thanks to its easy-joining panels that slide into each other.