Why Grace Ice & Water Shield is better
Why Grace Ice & Water Shield is better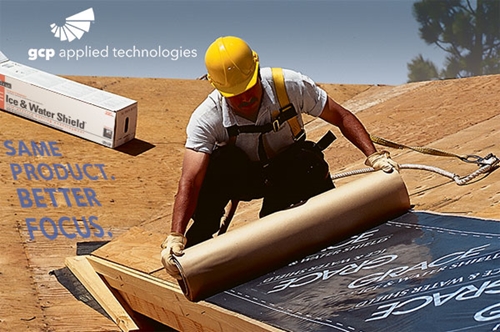 Any builder can tell you that a roof has to be able to keep moisture out of the home, whether it comes in the form of rain, snow, or ice. Leaks and ice buildup around roof fasteners can be problematic for contractors and homeowners. That's why GCP Applied Technologies (formely Grace Construction Products) developed Grace Ice & Water Shield®, maintaining a tight seal for better adhesion on roofing jobs.
Just ask the contractors who use it:
"Grace Ice & Water Shield® has the best adhesion to the roof deck," said one Wisconsin contractor who uses the roofing underlayment on job sites. "You will not have problems with ice damming, leaks, wind-driven rain… anything like that."
No one wants to get called back to repair a roof, especially when one's reputation as a builder could suffer. Ice & Water Shield® helps ensure the job is done right the first time.
Because it doesn't have a granular finish like its competitors, Grace Ice & Water Shield® adheres to itself to form strong, watertight laps. This watertight seal helps to keep the roof clean and dry, offering superior protection from the elements. Watch this video from GCP Applied Technologies to see why contractors swear by the product:
Simple installation, watertight adhesion
Among its innovative features, the Ripcord® system makes installation clean and simple.
"One of the really nice things about the Grace Ice & Water Shield® is that it comes with a Ripcord® feature," Wisconsin jobsite construction lead Justin Borgwardt said. "If you're installing flashing in a valley or putting it up against an intersecting wall, the Ripcord® allows you to put down half on one side of the valley, peel the paper off, stick one side down and leave the other paper on so that you can adjust and move things around. It's so easy to use compared to traditional [products]."
Grace Ice & Water Shield® is comprised of 100% rubberized asphalt, a proprietary material that's been tested, re-tested and perfect over the years. The adhesive seals around roofing fasteners that go through the membrane, creating a waterproof seal to provide the highest level of waterproofing performance. "That's the best advantage of [Grace Ice & Water Shield®] right there," Borgwardt added.
There's a reason why Grace Ice & Water Shield® has been trusted by contractors for over 35 years. It's durable, easy to use and it just works. It can be used on new projects, or you can apply it during repairs. Either way, the roof will hold strong against the elements.
Grace Ice & Water Shield® is available from Amerhart. To view products from GCP Applied Technologies and other quality manufacturers, check out Amerhart's product catalogs.