Tracy Nacius Recognized for Leadership
Tracy Nacius Recognized for Leadership
Ladies Lead: Tracy Nacius, Amerhart
By Denise Williams | Channel Connection
When Tracy Nacius applied for a job as a specification representative back in 2004, she had never even heard the term before. She'd earned an interior architecture degree two years prior and, since graduation, had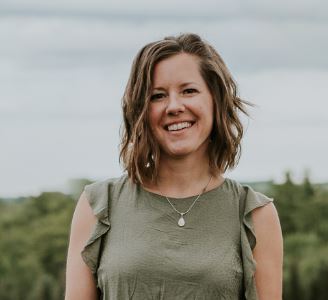 been working in a job that was billed as "interior designer" but translated to "jack of all trades." And she was getting restless. Nacius had no idea what "spec rep" meant, but when she stumbled across an Amerhart job posting, she was intrigued just the same.
Nacius took a gamble and interviewed for the position, despite her unfamiliarity. And the Green Bay, Wisconsin-based building materials distributor rolled the dice and decided to hire her, also despite her unfamiliarity. The move paid off for both.
In Nacius, Amerhart lucked up on a hard-working and committed employee who spent the next 11 years traveling throughout Wisconsin and Michigan to educate and train architects, designers, kitchen and bath professionals and other customers on the company's products.
In Amerhart, Nacius says she hit the jackpot with an employer that offers everyone – male and female – the opportunity to advance and succeed. As part of that culture, the family-focused business recognizes and readily accommodates the needs of the women in its workforce – which would benefit Nacius when the time came to start a family. With first one, and then another, young son to care for and a husband who also traveled for work, being on the road full-time for Amerhart presented a challenge. Rather than lose an valued asset to the company, Amerhart moved the new mother off the road and slid her into a marketing role that allowed her to work from home a couple of days of week. She also helped out by taking some of the administrative burden off the branch manager of the Green Bay location for six or seven years, until a colleague's retirement dropped a new opportunity in her lap. Nacius then moved out of the corporate/retail division and back to Amerhart's industrial division, where she now has the title and responsibility of sales development manager.
Gender Not a Barrier
Her 18 years with the company (as of April 2022) have been fun for Nacius, who credits a string of mentors – some now retired – with supporting and guiding her professional journey. The list extends as far as the current CEO and president as well as her current manager, who got the ball rolling on her move into the retail side of the business after her children were born. "With every idea that I've ever brought to him, he's always had my back," she gratefully points out. "He's allowed me to participate in different areas that I never would have known about if it wasn't for him involving me."
With the good fortune of working for a company whose values track with her own, Nacius can recall only a few isolated and very minor instances of feeling slighted because of her gender. As a young employee, there were a handful of times when she got "The Look" from skeptical colleagues or customers. "It was like, 'oh, this girl isn't gonna know what she's talking about!'" she elaborates. But the mere suggestion that she couldn't do something only lit a fire under her and made her work harder. "I've always felt confident knowing what my abilities are and knowing I'm going to put in the work," Nacius remarks, "but sometimes it would take a little time for others to understand that I had something important to contribute. I never let that get in my way."
Other women shouldn't let it stop them, either, she insists. Nacius is proud to work at a company that has female representation in all areas of the business – from HR and accounting to purchasing and even warehouse and operations. Whether at Amerhart or another firm, she sees a field that is wide open to anyone with the drive and passion to pursue it, including women. "Anybody who wants to learn this business can learn it," she assures, singling out herself as a prime example. "I have a degree in interior architecture, but I'd never been around building materials prior to that," says Nacius, who jokes that her prior experience amounted to holding the tape measure for family or friends who needed help with a project. All it takes to become more knowledgeable and more proficient, she adds, is hard work and tenacity. "If you put your mind to something, you can certainly do it," she declares. That's important to her for her own sake, but Nacius also thinks about the example she's setting for her boys, now ages 7 and 9. "I want them to be proud of their mom," she says.
Contrary to perceptions, Nacius believes gender is not the barrier it once may have been. "Building materials has been male dominated in the past, but that's changing," she notes. "Just because it's been that way doesn't mean it has to go that way." She even suggests that women have the right temperament for the work. "A lot of the women – at least the ones that I work with – excel at this business," Nacius observes, "because they pay such good attention to details, are very organized and just do what they say they're going to do."
Not only do they excel at their jobs, she continues, but they often do so while juggling work life with home life. "It's not easy," Nacius admits, "and it's important to recognize it and show appreciation" – which is exactly what Women's History Month is all about.