4 home renovation resolutions
4 home renovation resolutions
Each year, dozens of Americans seek to better themselves in January with a New Year's resolution. Unfortunately, of those individuals, only about 8 percent of the population actually achieve it. But why the lack of success? Perhaps those people were reaching for goals that were unattainable. There's always good intentions in saying you're going to eat a salad every day, but you'll get a craving for something unhealthy every once in a while. This year, don't promise to achieve the same old cliché resolution that'll fall by the wayside. Instead, vow to improve your home with some much-needed renovations.
Here are a few resolutions to spruce up your house and keep you happy all year long:
Fix up your front door
Want to boost your home's curb appeal? The National Association of Realtors suggested finally fixing up your front door for this year's resolution. It's an extremely cost-effective home improvement task, especially if the door doesn't need to be replaced. Just use high-quality paint in a warm shade to welcome visitors into your home with ease.
Winterize your home if you haven't already
The blistering temperatures have already made their way around the country, and you're definitely feeling the chill indoors if you haven't winterized your house yet. The cold is going to seep through those gaps in your house until you seal them, so make it your goal to take care of this as soon as possible. Step outside and take a walk around the perimeter to determine where the cracks are. The cold is likely getting through gaps in the baseboards and windows. Insulation and caulking will serve as a quick fix until you can nail down a better winterization plan for next year.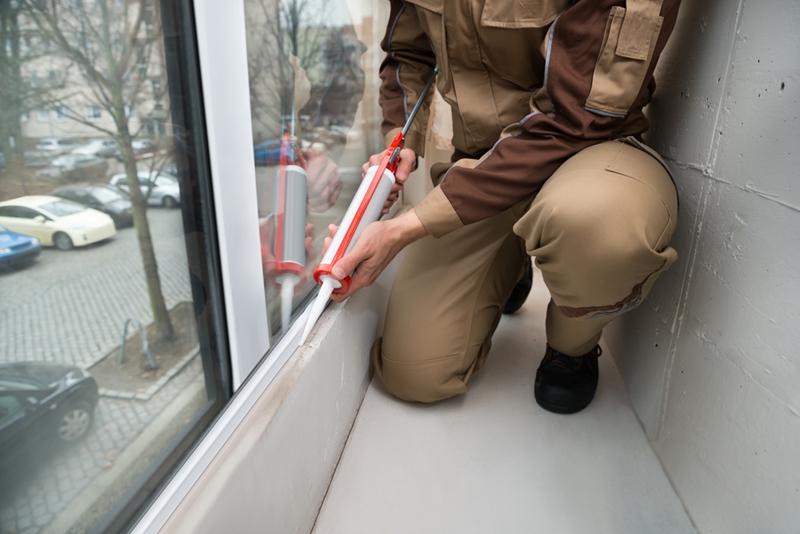 Seal cracks by caulking the windows.
Nail down plans for a new deck
You've been dreaming of the day to finally show your deck the TLC it deserves. And since you can't take on the job while it's snowing, just make it your goal to finally have the plans set in stone. Use January through March to determine the wood-grain, elevation setup and framework you'll choose to create the deck of your renovation dreams when spring finally arrives.
Choose to invest in maintenance-free siding
Much like transforming your deck, giving your home siding a facelift will have to wait. But that doesn't mean you can't nail down the plans. This year, vow to upgrade the exterior of your home by choosing to invest in fiber-cement siding. It lasts for decades and is waterproof, incredibly stable and holds paint longer than wood products.
No matter how you choose to improve your home this year, we're happy to help. Please contact us today so we can refer you to a dealer near you.