4 reasons to upgrade your kitchen cabinets
4 reasons to upgrade your kitchen cabinets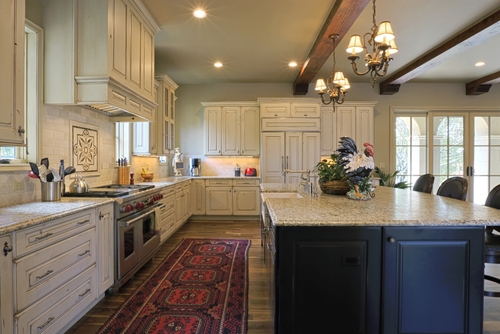 Despite the boom in apps and websites that let you read about and rate new restaurants, cooking at home still gets a big "like" from the general public.
According to a survey by ReportLinker, 98 percent of people in the U.S. prefer to cook their meals at home. Meanwhile, more than one-third of people say they cook at home on a daily basis and 50 percent report cooking a meal at home between three and six days a week.
Those numbers, combined with the traditional flurry of cooking that goes along with the winter holidays, means kitchens will be busy in the coming months. But having enough space, including kitchen cabinets, is vital. Is your kitchen in need of an upgrade? Here are a few tips to know when it's time to update your kitchen cabinets this winter.
It's time: You've been putting up with the cabinet door that sticks, the one with the squeaky hinges, and the one that simply fell off years ago and you haven't gotten around to fixing it. Face it: it's time to replace your kitchen cabinets. Whether it's a shelf that needs to be propped up or a missing pane on a glass door, SF Gate suggests that a deteriorating kitchen, including broken cabinets, should be upgraded with features like new handles and fixtures to improve its overall look and, on a more basic level, make the cabinets functional.
You need more space: As your family and needs have grown, you can acquire more kitchen equipment: plates, pots and pans, utensils. In addition, you might have become more skillful as a cook and in expanding your food repertoire, you now have more exotic spices in your cabinet than just salt and pepper. As your kitchen skills and menu grow, you'll need more room for all the things you'll require to make that special meal or to try out a new one.
You need to update your look: Antique and original home furnishings can be a great look, capturing the style and materials that were popular when your home was built. But that "classic" style may not be for everyone. Even the most well-kept kitchen can appear outdated if the features are from the 1950s and you have an eye toward the 21st century. In addition, older cabinets may not have the features you want in a modern kitchen such as pull-out drawers for waste containers and heavy appliances, or built-in plate racks. Upgrading your kitchen cabinets can both improve the overall theme of your kitchen and provide you with the space and features that you want in a modern kitchen. In addition, you can maintain a classic style with modern features like shiplap wooden cabinets.
You've realized you've got a lot of options: It's easy to get comfortable with your surroundings. Seeing the same kitchen and cabinets every day, you can become a bit complacent and assume that there's not much you can do to improve the look of the room. But don't become blind to the options you have in redesigning your kitchen and improving it with new cabinets. There are many choices such as tuxedo cabinets available that can give your room a totally new look while also providing unique storage opportunities that you may not have realized existed.
Interested in exploring the options available to you regarding kitchen cabinets? Let us help you determine the right look and style to maximize the potential in your kitchen. Contact ustoday for more information.