4 ways to boost your home's curb appeal
4 ways to boost your home's curb appeal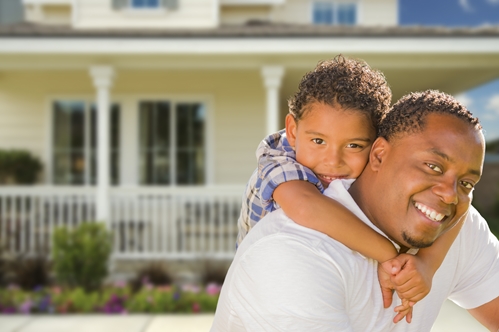 The front of your home makes the first impression on all guests, neighbors, and even potential home buyers who may be interested in your space when you decide to put it on the market. It's the easiest way to showcase your style and personality before anyone makes their way into the foyer. To enhance your exterior space and intrigue passersby, consider the following tips for boosting your home's curb appeal:
Install new address numbers
Are your house numbers easy to see? Are they dirty? Is the style outdated? These are all vital reasons to consider a reboot, according to HGTV. Think about the style of your home, along with personal taste, before choosing the new numbers. This allows you to show off your personality, and also keeps the exterior together in perfect harmony.
Plant flowers or trees near the entrance
Bring your home to life by creating a small garden, using flower planters, or even planting a blossoming tree near the front door. This is a simple way to add curb appeal and a welcoming feel to a home that needs a pick-me-up, according to Better Homes and Gardens magazine. To make things simple, yet eccentric, buy ready-made containers from a home and garden center and place them throughout the entryway of your home. Or, you can get more creative by planting your own arrangements.
Upgrade your mailbox
Another easy improvement that makes a huge impression is upgrading your mailbox. Yours should equally complement your home's style and your personality. You can install a completely new mailbox, or instead spruce up the wooden post or the numbers alongside of your existing box. Surround it with a small garden or arrangement of flowers to bring more attention to it. If you have a hanging box instead of a traditional standing one, hang planters nearby that accentuate the feel you're trying to achieve.
Replace the door, shutters, and siding
If reviving the entire exterior of your home is on your agenda, consider replacing the door, shutters, and siding. DIY Network recommends
painting the front door
in a bold shade that makes your house pop, without going overboard. Base the door color on the new siding and shutter arrangement you're thinking of.
If you're ready to completely revamp your home, it's time to replace your siding. Amerhart carries a number of you can invest in to maximize your home's curb appeal. For example, Rollex steel siding offers a clean, modern look and guarantees no rusting, fading, peeling, or cracking. It's virtually maintenance-free and comes in a variety of color options.
CertainTeed vinyl siding is another preferred siding brand for homeowners looking to make exterior improvements. They offer the widest array of modern colors in the industry, as well as cedar shingle siding that replicates the natural beauty of wood. No matter which route you take, you can count on your home's curb appeal to increase as you add touches of your personality with any of these attention grabbing features.