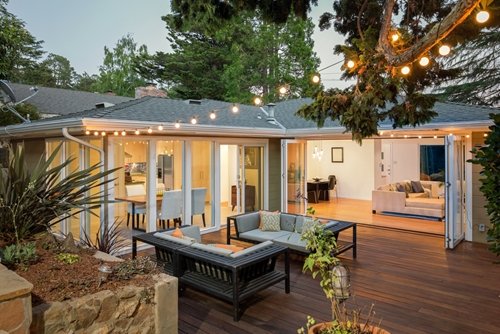 You've upgraded to composite decking materials so you can kick back on a beautiful, durable deck. What else can you install to improve your enjoyment? Adding tech can bring your outdoor living space to a whole new level.
Lights
The fun can keep going long after the sun sets. Outdoor lights add warmth and ambiance, helping make an outdoor living space an extension of the home and allowing you to get more fun out of it. LED lights in particular are a great buy because they don't give off heat and tend to last longer than typical incandescent bulbs.
Entertainment systems
Homeowners can install a full entertainment system in their outdoor living spaces thanks to new technology. While waterproof Bluetooth speakers are a great option that you can use anywhere, you can also set up static speakers directly into your deck or patio area. The Wirecutter has reviews on the best outdoor speakers.
"Set up a whole outdoor entertainment system and never watch TV inside again."
But why stop at just speakers? You can go big: Set up a whole outdoor entertainment system and never watch TV inside again. Just remember to keep the noises at a reasonable level for the sake of your neighbors.
Heaters
When the summer ends and you start to feel a chill, outdoor heaters can keep you and your family comfortable well into the fall. Hayneedle has a durable 1500 watt halogen outdoor heater that fits right under your deck's umbrella.
Other gadgets
There are plenty of other great products you can buy to add more to your outdoor space. For instance, an outdoor kegerator will keep frosty beers on tap while you and your guests are enjoying yourselves outside. And believe us, you'll be getting lots of guests with this bad boy.
For home project inspiration, quality products, and exceptional service, Amerhart has got you covered. Check out our online catalogs for more information on our product lines.