Check your deck to keep it safe
Check your deck to keep it safe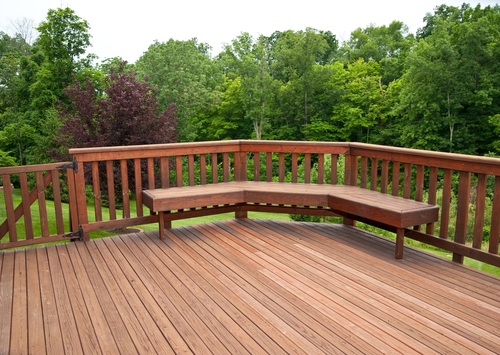 Whether you're a builder or a homeowner, it's important that every outdoor living space is safe. May is National Deck Safety Month, according to the North American Deck and Railing Association, and with summertime right around the corner, now is the perfect time to check the decking, fasteners, railing and the rest of your deck to make sure everything is safe. Old, poorly-maintained decking can collapse, but the good news is that this is easily preventable with proper maintenance.
Ledger board and supports
Common problem areas include the ledger board, where the deck attaches to the house, as well as the support posts and joists that help to hold the structure up from underneath. These areas are often overlooked, but if they wear down they can affect a deck's safety. Even if the decking materials themselves are still in great shape, the ledger board could be a liability if it's not strong.
Stairs and railings
Check any handrails to make sure they're firmly in place. The higher your stairs are off the ground, this more crucial this step is. Make sure nothing blocks the stair pathways. Any open areas behind stair treads should be no more than four inches high. Stairs should look even, and they certainly shouldn't sway when you step on them.
Cleaning
When they're damp, leaves can become slippery and lead to mildew, so clean these off of the deck. If mildew is appearing on the decking materials, apply a new coat of waterproofing stain.
Grills and other heat sources
Make sure that the decking materials are protected by a non-flammable protective layer between the wood and the heat source.
Flashing
The flashing is important because it directs moisture away from the deck. This metal part usually stands between the deck and the ledger board, helping to keep debris and water from building up. If you see water accumulating, it's time to replace the flashing.
Furniture
Check all outdoor furniture to make sure it's still sturdy. If you're going to leave furniture in your outdoor living space, make sure it's made from tough enough materials so that it can withstand the elements.
Fasteners
Check the nails and screws throughout the structure. Tighten any loose fasteners and replace any corroded ones. Pay special attention to the ledger board.
Wood
If there are any parts of your deck that are regularly wet, make sure the wood isn't decaying. Re-stain and re-seal these parts to make sure they stand up to the moisture. Use a poker to see if any parts of the wood are softer than normal. If the wood is decaying, consider replacing it with more durable composite decking materials like Trex.