Creating outdoor entertainment spaces
Creating outdoor entertainment spaces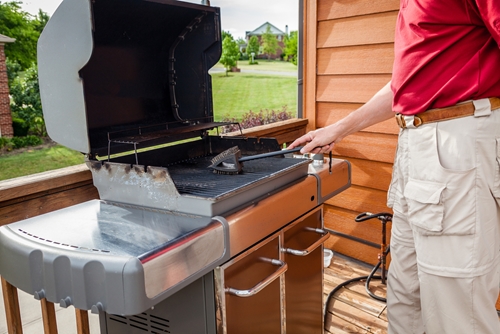 Grilling and entertaining season is here! Your outdoor living space is better with guests. With a little bit of work, some inspiration and just a few key decking materials, you can turn any outdoor living space into an area fit for entertaining.
Surround sound
You'll need to listen to some tunes while you're grilling, right? You can use a simple portable Bluetooth speaker, or wire your own outdoor speakers. Wired outdoor speakers can connect directly to your receiver. Make sure that you use more rugged speakers that can handle the elements.
Fire pit
An outdoor oven or fire pit is a great place to gather when the sun goes down. You can use it to grill your steaks or toast marshmallows, and the heat will help keep it warm enough to use the deck during the fall. You can use a portable fire pit, or build a concrete base.
Be careful if you're using a fire pit on your deck. Installing a fireproof protective layer between the fire pit and the composite decking material can protect it from high temperatures.
Outdoor home theater
It's always great to have a crowd over for a movie night, or to watch the big game. In the summertime, why keep that fun indoors? Many Americans remember spending summer nights at the local drive-in movie theater, watching a double feature with friends in a car full of popcorn. Today, most of those drive-ins are gone, but you can still relive the magic in your own backyard.
Building an outdoor home theater is easier than you think. Here's what you're going to need:
An outdoor projector screen: Check out Elite Screens' Yard Master series, which are made durable for outdoor use.
A projector: Even if you already have a projector, it'll take some calibrations to work outside, and it could get damaged if you leave it out. If you plan on using your new outdoor theater regularly, it makes sense to get a separate projector just for outdoor use.
Outdoor speakers: It's best to use all-weather loudspeakers because you can build them into your outdoor living space and not worry about the elements destroying them. Careful placement and calibration of outdoor speaker systems can reduce sound leaking into a neighbor's property.
Ample outdoor space: Most importantly, you're going to need an outdoor living space that can support your home theater. Whether you want to be sitting on the grass in lawn chairs or sitting on the deck looking outward is up to you. Just remember that you shouldn't be sitting too close to the screen. If you don't have a large wall to fit the screen on, you can also buy one with its own stand.
Get your popcorn ready!