Creating 'outdoor rooms' with pergolas
Creating 'outdoor rooms' with pergolas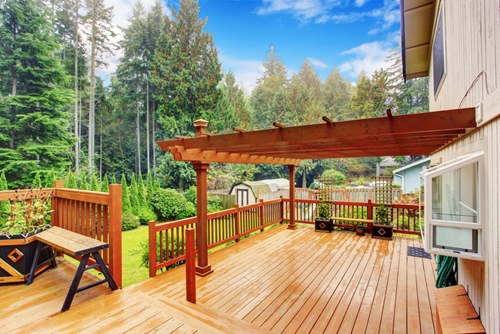 Today's builders are doing exciting things with composite decking material, helping homeowners get more enjoyment out of their outdoor living spaces. These areas allow homeowners to enjoy the outdoors more, while also enjoying the comforts of their own homes with friends and family.
A recent trend involves separating different areas in this space into separate outdoor "rooms" for different functions. A house isn't just one big room, after all. You have walls separating your different indoor living spaces in your home.
These outdoor rooms are separated by pergolas, archway structures that were originally popular in gardens. Pergolas are made from various materials, they can feature many designs and they can be easily assembled from kits.
"Outdoor living areas are more than just decks, porches and patios - they're extensions of the home."
Creating outdoor rooms
Using pergolas, sections of the deck can be separated for different uses. For example, one section can be an outdoor kitchen, another can be a dining area, while a third area could be dedicated to entertainment with a TV and comfortable couches. By creating separate areas with their own designated functions, the outdoor living space feels more comfortable and livable.
Adding beautiful and functional outdoor furniture like couches, built-in benches and cushioned chairs makes these areas more than just decks, porches and patios - they're extensions of the home. Homeowners can bring more of the comforts from the living room out into the great outdoors. HGTV's Kate Campbell suggested that "Integrating interior-inspired accents" such as colorful, weather-resistant rugs, pillows and throw blankets can make these outdoor areas feel more like a room in the home.
Trex pergolas
A Trex pergola kit can help create some separation between areas with separate designated uses. Trex pergolas come in 25 different sizes, so no matter the dimensions of the outdoor space, there will be options. In addition, these pergolas have the following characteristics:
The kits come with virtually unlimited design and options, making them work for any type of outdoor living space.
Pergolas are made from aluminum reinforced cellular vinyl, making the kits durable just like any Trex products.
These materials are low maintenance, requiring virtually no upkeep.
For project inspiration, quality products and exceptional service that goes Beyond the Order®, Amerhart has everything you need. We inspire our friends and neighbors to design and build beautiful outdoor living areas. Check out our online catalogs for more information on our product lines.