Helping your clients create a bathroom they will love
Helping your clients create a bathroom they will love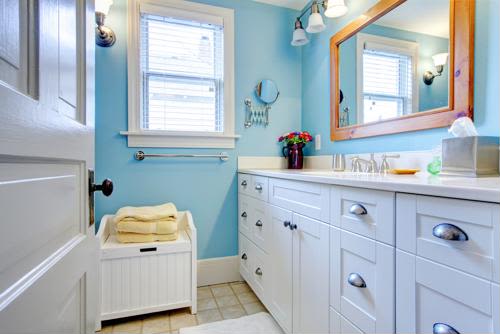 Every room in a home is affected by design trends and fashions, and the bathroom is no exception. While not being the grand centerpiece of any party, you will find that many of your clients have definite ideas on how they'd like their restrooms to look. While these can vary wildly depending on taste, you should always be prepared to offer thoughtful and honest advice about which trends in design will likely last and which may be little more than passing fads.
Balancing features with water consumption
Since 2012, Consumer Reports has been warning customers that not all shower heads are created equal, both in terms of comfort and energy bill impact. While showers, on average, use far less water than a full bathtub, often the more expensive shower sets – with multiple heads and a plethora of settings – still waste a fair amount of water and energy.
To combat this waste, the Environmental Protection Agency created WaterSense, a product certification aimed at helping the American public save 2,900 gallons of water per year. This can translate to radically lower energy bills; especially helpful to your more budget-conscious clients.
Using products like low-flow toilets and tankless water heaters can also reduce the water bill, as well as make the whole house a little bit greener in terms of energy consumption.
Understanding that color can be an expensive replacement
According to Pantone, a shade of ultra violet is the official color of 2018 and they're urging everyone to use this style in products, including room design. As a home contractor, painting is typically low on your list of priorities – if it's there at all.
While paint won't affect room stability and wall durability, it can still impact your client's perception of the room, particularly since its color will be seen every time they enter the space. So, when called upon to give input into paint choice, your best bet to ensure that your client's deepest desires, and not some trendy fad, are influencing the decision.
Painting can be expensive, more so in time than money. If you have a client with three children, the odds of that parent having time to repaint their bathroom(s) are slim. An unsatisfying paint color can lower client happiness and may even reduce the likelihood that you're hired again for future work.
Make sure the client understands how the various everyday uses of the bathroom can affect its wall color and make sure they pick a color that will keep them happy longer than the year it was installed.
Knowing which fixtures to have and which to avoid
For a while, everyone wanted a hot tub-style bathtub.They were considered home luxuries, placing the relaxation aspect of the bathroom front and center. However, not only are these furnishings extremely wasteful with water, they can also be hard to maintain and even dangerous for older clients.
As a home contractor, you need to be able to navigate client desires and remain focused in reality. While someone may want dual sinks, the costs of added counter construction and plumbing installation should be considered.
Likewise, elaborate lighting should also be approached cautiously as proper water safety protocol must always be followed.
Making sure they choose the right flooring
As stated in a previous article, certain flooring choices such as hardwood can prove disastrous in a bathroom. This space is a moist environment, which is typically dampened at least once a day. While you must follow the commands of your client, do everything in your power to stress the costs and potential health hazards of creating such a space within the home.
The same holds true for wall choice as well. Certain materials, specifically durable moisture-resistant ones like ceramic tile and marble make for far better choices in the bathroom.
Optimizing natural lighting whenever possible
As contractor, your task is to not just to build a sturdy house but to capitalize on the natural environment whenever possible. Many homes keep bathrooms toward the edge of the building, offering an excellent opportunity to use natural lighting. However, unlike other spaces in the house, bathrooms must walk a fine line between openness and privacy.
A well designed bathroom should look spacious without appearing as an advertisement to neighborhood gawkers. In this regard, inserting a skylight (if possible) makes for an excellent addition. This window will allow in natural sunlight, reducing electric bills. It will also keep your client's modesty safe from everyone but the birds.
As a contractor, you are more than just a home builder. To many clients, you are a home expert and thus your opinions and design choices hold added weight. While everyone is encouraged to be trendy, ensure the bathroom remains a place of function as well as fashion in the homes you design and renovate.