Helping your clients repair weather damage
Helping your clients repair weather damage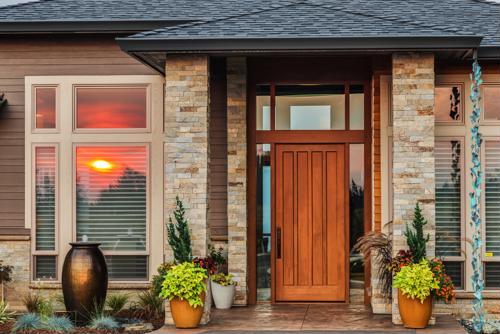 Winter 2017 is over, ending a year of exceptional weather damage to parts of the U.S. The combination of hurricanes Harvey, Maria, and Irma made for the most expensive year of hurricane damage on record, clocking in at around $200 billion, according to National Geographic. And this was just in terms of storms, never mind snowfall, flooding, and drought - extreme weather conditions that battered the U.S. throughout 2017.
According to Home Advisor, the average cost to repair home damage from hail, wind, or storms is $6,639. Some houses or buildings with minor damage only need repairs totaling $400 or so, while other places will demand upward of $30,000. If you have clients whose homes were damaged during 2017, odds are they will be coming to you for repairs. When that happens, it is best to be prepared with material suggestions and design ideas to help protect their homes from future storms.
The unfortunate reality is that climate change is here and getting stronger, so merely hoping these extreme weather patterns will end is not sufficient. Follow these tips to help your clients repair and weatherproof their homes.
"Rollex's Aurora steel siding has been designed to withstand Category 5 hurricane winds."
Replacing trimboard and siding
Since siding and trimboard cover the exterior of a house, odds are these components are the most likely to have seen some form of damage. When it comes to replacing trimboard, Amerhart recommends using Palight Trimboard. Available in clay, sand, and classic white coloring, Palight Trimboard is created to deliver a solid color throughout the product. This means that any knicks or chipping won't distort the paint job, lowering overall maintenance costs.
This style of trimboard can also be cleaned more easily for the same reason. Since the product arrives already painted, you won't have to spend time waiting for appropriate weather conditions before installation. This lets you complete the job quicker and reduces your client's overall labor costs.
Siding covers more of a house's surface and needs to be robust. If you have a client who lives in an area beset by increasingly powerful hurricanes or other storms then you may want to suggest replacing their current siding with Rollex Steel Siding. This durable material has been available for decades and offers a modern look that will resist wear, such as rusting, cracking, or fading. In addition, Rollex's Aurora line has been designed to withstand Category 5 hurricane winds.
To top it off, the Aurora line has been built with solar pigments inserted. This siding will not only defend your clients' homes during severe storms but make them more energy efficient as well.
When it comes to helping your clients choose durable siding, Amerhart can recommend Rollex steel, James Hardie fiber cement, and CertainTeed vinyl, and cedar siding. Each of these will hold up to the elements, helping homeowners avoid some of the worst of extreme weather damage.
Clients in areas with increasing drought are advised to use steel or fiber cement siding as these options are not easily flammable.
Additional home health tips
While your primary goal is to build a longer-lasting home for your client, you can make other suggestions to improve overall home health. For instance, most siding won't stand up to the sudden impact of a full-sized falling tree. Educate your clients on lawn design and avoiding dangerous tree placement too close to the house. RTEC Treecare warned that willow white spruce, cedar, and white pine trees are especially likely to fall during periods of high wind.