How to prepare your deck for fall
How to prepare your deck for fall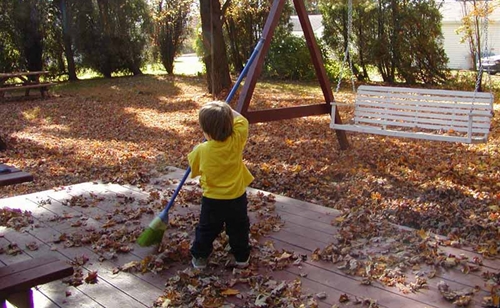 It's hard to believe, but summer's end is near. Soon, you'll say goodbye to constant sunshine and warm weather and hello to crisp temperatures and damp conditions. But just because the season change is near, doesn't necessarily mean you can't keep spending your days outside - it's simply time to get your patio space ready for the new forecast. With a few preparation tips and tricks, you can ensure your deck stays in great condition as the weather gets colder.
Not sure where to get started? Have no fear. Here are a few ways we suggest preparing your deck for fall:
Give it a thorough clean
Whether you tracked dirt onto the stairs or left barbecue stains near the grill, giving your deck a thorough clean before fall and winter roll in is critical for the maintaining its appearance and longevity. Sweep the space well and then use a bleach-free cleaner formulated specifically to cleanse and restore the deck, as suggested by HGTV. This will revive the material and remove stains, mold, and mildew from the surface.
Apply a protective coating
If you have a wood deck, applying a water-repellent protective finish after cleaning the deck protects it from the damaging weather conditions ahead. Without a protective coating, your deck is more likely to split, crack, or warp as the temperatures get colder. The right formula will protect against water damage without harming the color of the wood. Talk to a professional about the type of solution you need based on the woodwork of your deck.
Remember: A power wash can ruin the finish and color of your deck wood. Stick to a manual cleansing technique to keep your deck in its best condition.
Prepare the surrounding area
Preparing the surface of your deck is critical, but it's not the only thing that needs a little maintenance before fall. To ensure your cleansing goes a long way, it's crucial that you prepare the surrounding area as well. House Logic suggests
trimming all bushes and trees nearby
. It's in your best interest to keep them at least 12 inches away from the deck to reduce the chance of mold, moss, and rotted branches damaging the surface of your deck.
Additionally, keep leaves and other debris from piling up by raking regularly. This can also discourage mold from growing and prevent the wood from warping or becoming discolored.
Consider investing in a new deck
Before you prepare your old deck for the season ahead, it may be time to invest in an entirely new structure. We offer Trex composite decking and railing products, which are eco-friendly high-performance items that need little maintenance throughout the year. This product is designed to provide the look and feel of natural hardwood without the hassle of labor-intense upkeep. This means you can spend more time relaxing on your deck, not maintaining and preparing it for harsh weather conditions.
For more information on Trex composite decking or any other items we offer, contact us directly today.