Is your patio prepared for winter weather?
Is your patio prepared for winter weather?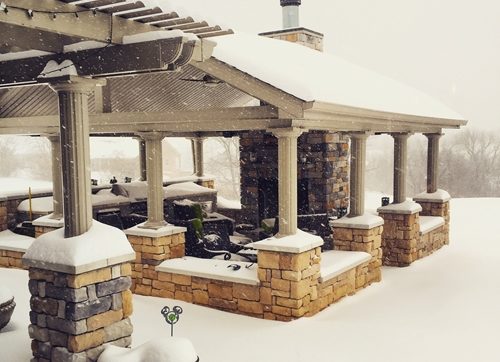 While fall's arrival is just around the corner, there's no telling when the colder temperatures and harsh weather conditions could settle in, quickly transforming an autumn oasis into a winter wonderland. Even if you just prepared your patio space for the seasonal transition from summer to fall, now's not a bad time to start planning for the extreme forecast changes in the upcoming months.
"Smart homeowners recognize that seasonal changes can wreak havoc on decks unless properly maintained," Fiona Seal, a wood care company manager, shared with HGTV. "But with a few simple steps, you can winterize your deck so it survives the onslaught of ice, snow, sleet and moisture that can cause damage during the months ahead.
You won't be using your deck nearly as much during the winter, but that doesn't mean you shouldn't prepare it for the bitter conditions ahead. Here are a few ways to ensure your patio space is ready for winter before it's too late:
Put your patio furniture away for the season
Depending on the type of patio furniture you have, it's likely in your best interest to put it away for the season. Aluminum and wood furniture may be weather resistant, but you should at least consider placing a tarp over these pieces to keep them protected from natural wear and tear. Plastic and wicker style furniture should be placed in the garage or shed until springtime.
Remove organic material
To prepare for the first snow of the season, make sure you remove all leaves and other organic debris from the deck. Snowfall that covers natural materials can cause them to mold, rot, and even leave stain or mildew marks on your patio. Make this a seamless task by removing debris once a week. Otherwise, you may be faced with a hefty chore before the snow rolls in.
Clean or stain the deck before it's too late
After removing clutter and natural debris from your deck, use a bleach-free cleaner formulated specifically for wood to cleanse and restore your patio space before the winter weather conditions occur. Once you've properly cleaned and dried your space, you can consider a water-repellent sealer, stain, or other sort of protective coating to keep the surface from getting damaged. Mold, mildew, and color changes can occur when wood is exposed to different elements, and using a protective finish to seal the deck can save you time and money towards damage repair during the season to follow.
If you're more interested in updating your deck before the winter months rolls around, now's the perfect time to consider Trex composite decking. Amerhart can provide you with the appropriate product (or recommend an appropriate retailer) that's built to withstand Mother Nature's unavoidable havoc, and needs little to no maintenance when spring arrives again.
For more information on revamping your deck to prepare for winter, contact us directly.