Preparing your Trex deck for the Fourth of July
Preparing your Trex deck for the Fourth of July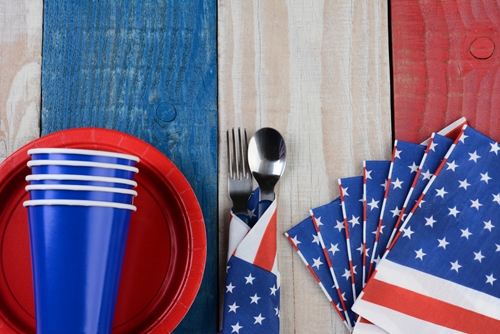 Independence Day is right around the corner. If you're planning to host a Fourth of July barbeque and want to make sure your Trex decking is in perfect condition for summertime fun, Amerhart has got you covered!
With this handy guide to deck preparation, you'll be ready to throw the perfect cookout to celebrate America's independence.
Inspecting the structure
Check your deck to make sure it's sturdy enough to support you and your guests. Since Trex is made from composite materials, you don't need to worry about the decking splintering. So, it should be fine if your guests want to kick their shoes off and relax.
While Trex composite decking materials are long-lasting, your ledger board may not be quite as durable. That' the metal piece that usually connects the deck with the house. Check the ledger board to make sure it's still going strong so your deck will be able to withstand your crowd of friends and family.
Cleaning the deck
One of the beauties of Trex decking is how low-maintenance the materials are. The composite decking material lasts longer and requires less maintenance than typical lumber. However, it's still good to give it a nice cleaning now and then, especially when you're going to have guests over. If you have any stains on your deck from leftover debris like leaves, you can use deck brightener to help return its rich color.
For more comprehensive cleaning, all you need to wash your Trex deck is a garden hose, approved deck cleaner like Olympic, and a pump sprayer. To see how it's done, check out Trex's short care and cleaning videos.
Grilling safety
It's only fair to assume that you'll be grilling for your guests on your deck this Fourth of July. Make sure that you have a protective, non-flammable pad or layer between your grill and your Trex decking. Composite deck mats work great for this.
Lighting your outdoor space
You and your guests are going to want to hang around to watch the fireworks when the sun goes down, or maybe cook marshmallows around the fire pit. Make sure your outdoor living space is well-lit for safety. Outdoor LED bulbs are a long-lasting and energy-efficient alternative to incandescent or florescent lights.
For composite decking materials, custom fabrication, and other high-quality building products and services, check out Amerhart's product catalogs. At Amerhart, we help inspire builders and homeowners to create their own version of the American Dream.
Happy Independence Day from the Amerhart family. Now, let's get that grill fired up!