Protect your deck from winter weather
Protect your deck from winter weather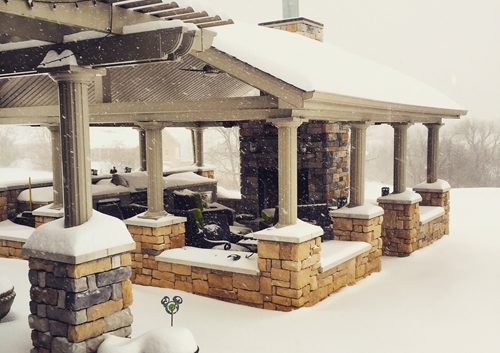 Winter can be especially harsh on your deck. The moisture from snow and ice can seep into the grains causing the boards to warp, shoveling can chip the paint away and built-up dirt can be impacted into the surface. You invested a lot in your deck, and you likely want to keep it in top condition for as long as possible. So to prevent winter from doing its damage on this home feature, take the following preventative measures:
Clean your deck well
HGTV explained that dirt and debris left on your deck can be ground into the wood as snow and ice pile on. When the weather clears up, your deck is left looking tarnished and dirty. Before the harshest season approaches, remove all decorations and furniture from the area and power-wash your deck thoroughly to remove any surface debris. If your deck is exceptionally filthy, you may need to power-wash it several times to remove most of the stains. This will keep the area looking nearly new longer.
"Snow, ice, and sleet can exacerbate any preexisting issues with your deck."
Make any repairs ahead of time
If your deck is unstable or in need of repairs, you will want to make sure these are taken care of before winter arrives. These issues can be exacerbated by winter weather. For example, a loose railing may come off completely if it is subjected to the extra weight of heavy snow. The same applies to wobbly boards and shaky steps. Try to complete any repairs on your deck before the cold and winter weather arrive to prevent further damage to the space.
Use a protective stain
Once the repairs have been made and the area has been cleaned, it is time to apply a fresh coat of protective stain. Nothing damages a deck faster than moisture. It can cause mold, mildew, and rot, but protective stains can help seal out the moisture. Not only will this give your deck a neat and fresh appearance, but it will also seal out damaging water. Most stains come in a variety of color options and last for many years, keeping your deck safe through many winters to come.
Winter may be great for skiing, sledding, and gathering with family for the holidays, but it is not a great time for your deck. Fortunately, with a little pre-planning and maintenance, you can ensure that your deck will remain in good repair through the season.