Ready for Thanksgiving? Consider these renovations
Ready for Thanksgiving? Consider these renovations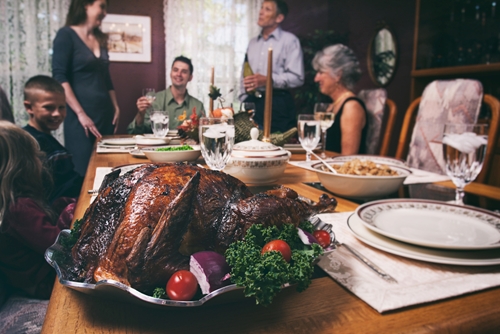 It's no secret that the dining room is the focal point of Thanksgiving. Yes, there are football games to watch and an oven to keep an eye on, but when it's all said and done, the meal is the big part of the day.
This means that your dining room will be the star of the show (along with the turkey, of course). So it makes sense to ensure this area of your house is a warm, inviting place that can accommodate all of the family and friends who will drop by for the meal. Before the big day approaches, consider some of these renovations to create a dining room that embraces the new and the traditional.
Lighting
Elle magazine says the right lighting can elevate your dining room and make any event there fun and festive, and there are many options to choose from: classic chandeliers, modern pendant lighting, informal shade lights or even recessed lights than can illuminate a room without becoming a distraction.
Walls
If there are any imperfections in your walls, now is the time to repair them. Cracks, holes, indentations and other damage can be fixed by a professional or you can do it yourself. In addition to repairing your room, you might consider giving them a facelift by adding a Vintage Shiplap Paneling accent wall. Even applying the paneling to one wall in the room can instantly bring it a sense of tradition and heritage that is perfect for a holiday steeped in tradition such as Thanksgiving.
Curtains/window treatments
Curtains not only frame the window but put the whole room into perspective. The right combination of style, fabric, color, texture and pattern can affect the tone, mood and lighting in the space. Meanwhile, Real Simple stated the type of rod and the use of tiebacks can elevate your drapery to the next level. You have the option of buying pre-made curtains or ordering custom-made drapery created to your exact specifications.
Cabinets
A dining room cabinet not only provides you with a convenient place to store your dining room essentials, but protects them so they'll be ready for special events such as Thanksgiving dinner. Your best china, crystal glassware, cutlery and cloth napkins will be right at your fingertips the minute you need them. If you don't already have a dining room cabinet, consider having one custom made out of glass and plywood to display your treasured items safely.
Flooring
If you expect heavy traffic in your dining room during the Thanksgiving holiday, it might be good to upgrade your flooring to hardwood that can withstand the activity. Consumer Reports suggests wood flooring for the dining room area because it can be installed quickly and ready for use right away, which makes it a perfect choice as the holiday approaches. The source added that homeowners who add wood floors to their houses are also adding value.
If you're ready to give your dining room a facelift for the holidays, including wood accent walls and flooring, Amerhart can help you determine the material that's right for you. Contact us today.