Think outside the box with curved deck designs
Think outside the box with curved deck designs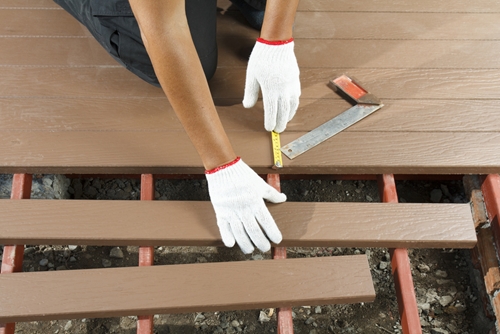 With winter winding down, it's a great time to upgrade your outdoor living space to prepare for a summer of grilling and entertaining friends and family. Thanks to composite decking from quality providers like Trex, you can do amazing things to your patio or deck.
If you're looking to improve your deck's design, there are a number of new design trends you can take advantage of to enhance the atmosphere. If you're tired of a typical rectangular-shaped deck and want to try something new, consider a composite deck with a curvy design. Curved decks can provide more freedom and let you use some more creative designs, while creating a sturdy, low-maintenance structure that will handle all types of weather.
Curved composite decking
Curved decking is one of the most exciting trends in outdoor living spaces. Thanks to the characteristics of composite decking, these planks can be customized to create decks in all types of shapes, including curves. Composite planks can be heated, making them soft and bendable like noodles. When the composite material cools down, it hardens into whatever shape you've formed it into. This allows for a wide array of exciting shapes that simply aren't possible with traditional lumber materials. Curved composite decking has opened the door up for a lot of new design possibilities, and new chances for homeowners to wow their guests.
"Curved decking is an exciting trend in outdoor living spaces."
The flexibility of curved decking
Curved decking can serve a number of benefits. These decks can fit unusual spaces, such as smaller yards or tiny houses. By thinking outside of the box, these decks can fit where a standard rectangular deck may not. A curved deck may also match other characteristics of the outdoor space, such as curved retaining walls. This makes it possible to design a deck and make it look like it was built at the same time as the retaining wall, giving the outdoor design more consistency.
Building a curved deck
There are some challenges to building and installing a round or curved deck, since the framing materials are usually rigid. Decks.com includes some helpful tips on how to use a series of angled posts and beams as a foundation for your curved deck. At Amerhart, we can provide curved composite railing to go along with your curved deck, and customize it to meet your unique project attributes.
Whether your project ideas include lumber or composite materials, Amerhart is with you every step of the way. At Amerhart, we offer ongoing service, from inspiration to customization and fabrication, well past product delivery.