GRAF134109323607
Grass Dynapro Tipmatic Soft Close Set, Galvanized
Components & Accessories
MPN: GRAF134109323607
GRAF134109323607
MFG #: F134109323607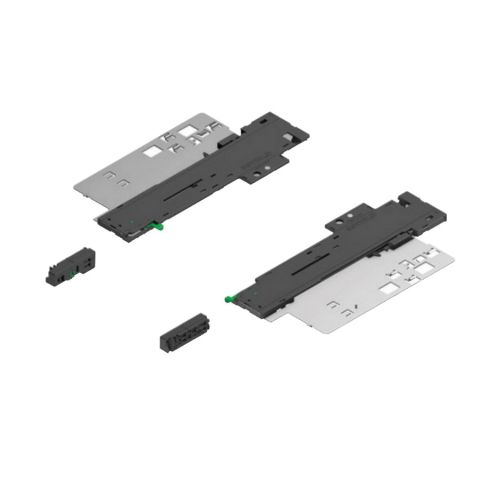 Brand:

Grass

Finish:

Galvanized

Includes:

Unit and activator

Item Recyclable:

Yes

Item Returnable:

Yes

Made in US:

No

Manufacturer:

GRASS AMERICA INC

Material:

Steel

Sub Brand:

Dynapro

Used for:

Face frame or frameless applications, 5/8 in (16 mm) drawer

:

GRAF134109323607

:

F134109323607
Too great to wait savings! Black Friday/Cyber Monday promo runs November 23 through December 4, 2020. Take 5% off products from Accuride, Grass, Mirka, Omega National Products, and QuickScrews when you order online. Use promo code BFCM5OFF at checkout.
In contrast to conventional undermount slide systems, Dynapro is the first slide that features a synchronization mechanism. This mechanical synchronization of each individual slide ensures enhanced comfort and movement without annoying sounds or resistance.
The operating function of Dynapro remains unchanged even when moving heavy loads. Abrasion-resistant nylon rollers ensure smooth and even operation.
Dynapro, the new generation of undermount slides for wood drawers, combines intelligent features plus superb gliding action for today's modern cabinetry.
Mechanical opening system for handle-free fronts
Combines Tipmatic function with Soft-close damping
Tool-free assembly of the Tipmatic Soft-close unit
One unit for nominal lengths 305 mm up to 762 mm
3-tier adjustment for the opening force