P-BKALADAWMNT2G
Trex ADA Handrail G2 Wall Mount
ADA Handrail
MPN: P-BKALADAWMNT2G
P-BKALADAWMNT2G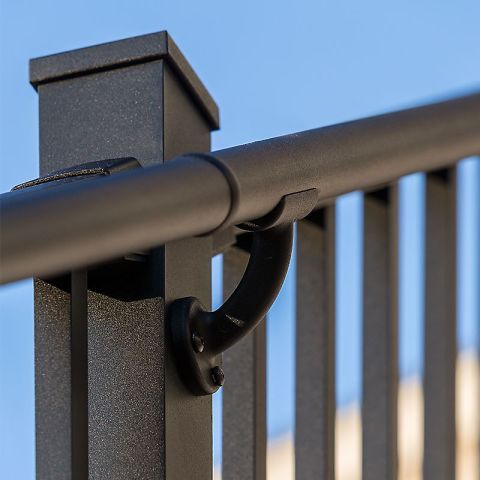 Brand:

Trex

Application:

Railing

Compatible materials:

Trex Transcend, Select, and Signature (formerly Reveal) Railings

Includes:

(3) Wood Post screws, (3) Aluminum Post screws (2) Handrail screws

Codes & standards:

Finish is AAMA-2604 compliant

Made in US:

Yes

Manufacturer:

TREX COMPANY

Material:

Heavy-Duty Aluminum
This Second Generation Wall Mount is a mid-span support for Trex ADA secondary handrail. It supports the rail as it spans past posts to create a continuously graspable rail.
The second generation of this product features recessed screw holes and includes the fasteners for both wood and aluminum installation.
The ADA Handrail Wall Mount must be used at each seam where the ADA Handrails connect to support the connection. Each seam must be as close to the center of the wall mount as possible. If a collar is being used, this can be offset slightly to allow for the collar to fit. The distance from the wall to the center of the rail is 2-1/8 inches.
The Trex ADA-Compliant Handrail system is designed to seamlessly blend with all Trex railing options, offering an extra level of safety, strength and accessibility for any deck design. Made of cast aluminum with a high-quality powder-coated finish that is AAMA-2604 compliant, the components resist fading, chipping and corrosion.
ADA Compliant
Works well with Trex Transcend, Signature (formerly Reveal), and Select Railing Systems
Finish resists fading, chipping, and corrosion
A wall mount must be used at each seam of rail to rail connections, collar ring can be used to hide seam
Distance from wall to center of rail is 2-1/8 in