The custom features homeowners want
The custom features homeowners want
To build or not to build? This decision weighs heavily on many homeowners when they decide it is time for a new home. Starting from scratch means building a home customized to your needs and wants, but can involve an enormous amount of time and energy. On the other hand, purchasing a home on the market can mean it's move-in ready but you may not be getting all the features you want.
If you decide to go the custom home route, it is important to think about how your house will be received on the market. This may seem like an impossible scenario after going through the process of building your custom dream home, but things change. In the event you do need to sell your home, you want to make sure you are not limiting your market with too many custom features. No matter where you are in the buying, building, or selling process, here are the custom features most homeowners want to see.
Things to Include
Laundry Room - According to Kiplinger, a whopping 91% of buyers want a separate laundry room. Such a simple and small space to create can sometimes be overlooked by larger kitchen and bathroom projects but should not be ignored. If you cannot dedicate a laundry room on the first floor of your home, the basement can be a great option. A dedicated laundry room can also act as storage for cleaning products and other household items that might have previously cluttered other spaces.
Outdoor Patio - Homeowners want to be able to enjoy the outside of their home just as much as the inside. A total of 87% of buyers are now looking for a home with a useable outdoor patio. Creating a space to gather outdoors can help buyers envision themselves enjoying outdoor parties and barbequing. Like anything, you do not want to go over the top with a highly customized patio. Stick to some of the most popular patio features to appeal to the most potential buyers.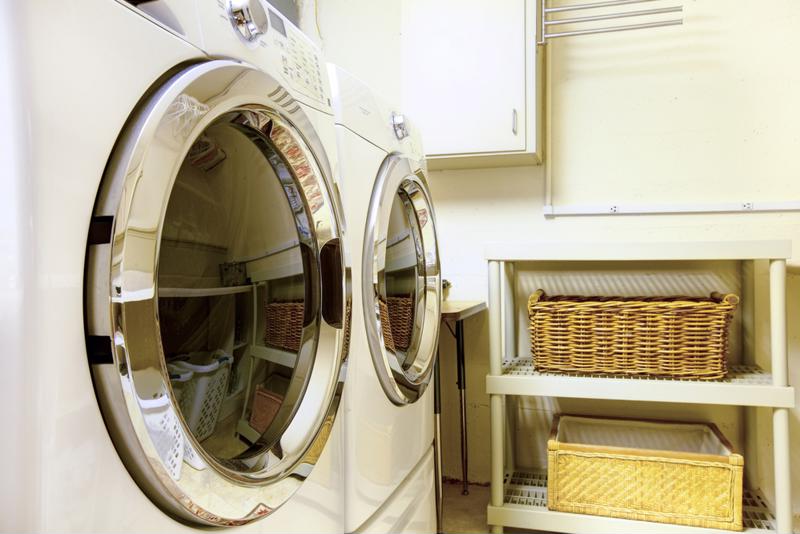 A separate laundry room is one of the most desired custom features by homebuyers.
Energy Efficient Everything - Windows. Doors. Appliances. HVAC units. If an energy-efficient model is available, you should include it in your home design. Energy-efficient everything is desired by 89% of buyers. Luckily, there are a wide variety of styles and brands that are energy star certified. This certification by the U.S. Department of Energy and EPA uses standardized methods to provide the energy consumption of products and devices. You do not have to sacrifice style for this certification that buyers trust. HGTV points out that even an energy-efficient HVAC system can appeal to a buyer's sense of comfort and ability to lower utility costs.
Storage Space Everywhere - Some custom storage spaces can be downright polarizing. A custom built-in entertainment system can be a buyer's dream but another's idea of wasted space. Kiplinger recommends adding storage space to the places in the home that need it most - the kitchen and the garage. A small pantry addition can make a kitchen appear less clustered and is something 83% of buyers want. Adding shelving space in the garage is also a way to appeal to a buyer trying to imagine how their belongings will fit in a space.
Things to Avoid
Some custom features that you think are popular may be turning your home into a hard sell. When choosing what features to add to your custom home you may want to avoid creating a dedicated office space and wall-to-wall carpeting. Building Pros argues that an office that takes away space from the kitchen or garage can be a major repellent. An easy solution for this is to keep your office space neutral enough so that it can easily be transformed into a guest or playroom. Instead of being left with an unwanted office, buyers can have a bonus room of their choosing.
Whatever you decide to build, make sure you are working with a licensed contractor to understand building trends and get the job done correctly. They will be able to guide you towards the custom features that help a home remain marketable in the long-term.