5 unique kitchen countertop ideas
5 unique kitchen countertop ideas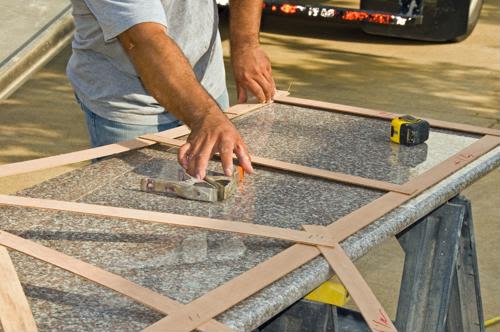 Stoves are nice and refrigerators are cool, but one of the most important parts of every kitchen is the countertop. Not only can it drastically change the look and feel of any kitchen, but is also the main platform for meal preparation and family gatherings.
With developments in construction and design, there are a multitude of options available when it comes to countertop material. By looking at current trends and some classic designs, we have compiled a list of the five most practical yet unique kitchen countertop materials to incorporate into your next kitchen renovation.
1. Butcher Block
Butcher block is the perfect complement to any home chef striving for a warm and natural look. Using straight cuts of timber, these hardwood countertops are highly durable and can be used directly as a work surface. The only drawback to this style of countertop is that it requires regular maintenance.
Realtor.com describes how butcher block countertops must be resealed every six months to avoid a build-up of bacteria and possible warping. They should also be oiled to prevent cracking and inspected for any scratches and cuts. Butcher blocks are a beautiful addition to any kitchen and can fit a variety of styles, but homeowners should be made aware of the work involved with their upkeep.
2. Concrete
This bold choice for a kitchen countertop is gaining popularity due to some mainstream design and renovation shows. Concrete is a good choice if a client worries about scratches or damage because it's almost indestructible. If any small cracks do occur, it's easy to fix by pouring more concrete! One thing to watch is that concrete is a porous material so it can stain easily. Just like with a butcher block, regular resealing is a must for keeping any concrete countertop in great shape.
3. Stainless Steel
Stainless steel is no longer exclusively used for appliances. This durable material has long been used in industrial kitchens because of its versatility as a work surface and the ease of cleaning. The appearance of stainless steel countertops alongside stainless steel appliances can be truly stunning, and HGTV recommends utilizing this material if your clients desire a contemporary or modern industrial feel in their kitchens.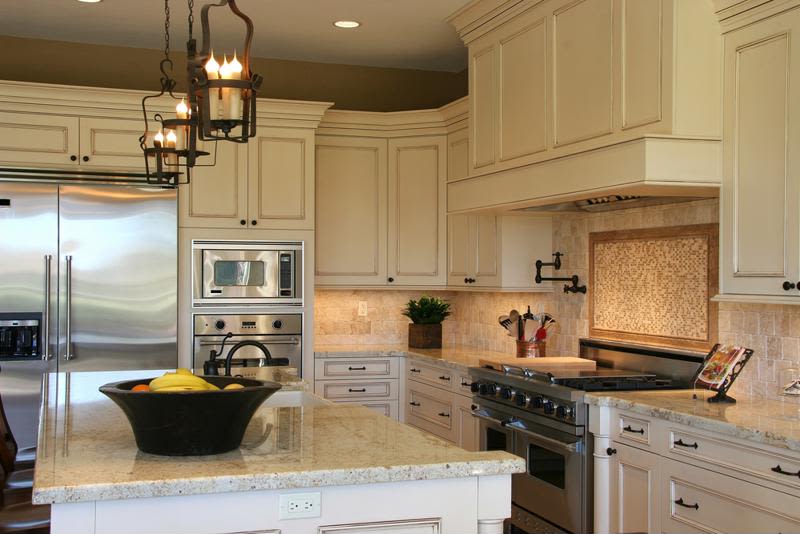 Choose a countertop that complements other aspects of clients' kitchens, like the cabinets and appliances.
4. Soapstone
Homeowners may have never heard of this material, but the elegant gray and black stone has a gorgeous white-veined look when used as a countertop. As Realtor.com points out, this stone is quite soft, or soapy, which gives it its name but also means that it's easy to chip or damage. Many professional chefs opt for this look because of its balance between elegance and warmth that's a great addition to any space.
5. Laminate
Laminate is the most commonly used material for kitchen and bathroom countertops. Due to its popularity, clients may not think laminate can give kitchens a unique feel - but that's incorrect. Laminate is made of plastic layers bonded to particle board to create a solid surface. It is relatively inexpensive and its heat resistance makes it one of the most practical countertop surfaces. Don't let the price fool you, laminate is produced in a variety of colors and styles.
Choosing a laminate countertop that resembles quartz, granite, or marble can save money without sacrificing design or worrying about damaging precious stone.
A quick change in countertops can tie together the entire tone of a kitchen while being a great focal and hosting point. When choosing a countertop it's important to think about the style of your client's kitchen, but also some of the practical elements. Are your clients prepared for some of the maintenance certain countertops need? How much use will they be getting and how durable do they need it to be? And always make sure your clients keep their budget in mind. A licensed contractor can be a great asset in guiding homeowners towards a countertop that is both stylish and fits their needs.