TYVEKT
3M Construction Seaming Tape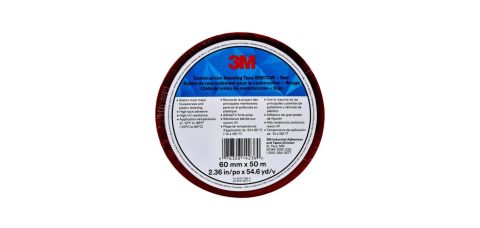 3M™ Construction Seaming Tape 8087CW is a cold weather sheathing tape designed to seal seams on housewrap and exterior sheathing materials. This tape features an aggressive pressure sensitive acrylic adhesive mounted on a biaxially oriented polypropylene film. It performs exceptionally well in cold temperature applications.
3M™ Construction Seaming Tape 8087CW is a versatile sheathing tape designed for seaming, splicing, sealing and repairing materials used for moisture barriers, both inside and out. This includes sheathing, weather resistant barriers and moisture barriers.
Taping seams aids in reducing air infiltration, improves the effectiveness of insulation and reduces heating and cooling costs.
This tape is formed from a rugged biaxially oriented polypropylene film backing which is coated with an aggressive industrial grade pressure sensitive acrylic adhesive. The backing is conformable to irregular surfaces and contours to help ensure a tight seal.
It remains flexible when cold, can be applied from 10°F/-23°C to 185°F/85°C and has a service temperature range from -40°F/-40°C to 185°F/85°C. This tape features a low moisture vapor transmission rate and does not compromise the performance of vapor barriers. It unwinds easily by hand or with a 3M hand-held applicator.
Excellent cold temperature adhesion to housewrap and polyethylene
Continues to properly function in cold temperatures as well as high heat and humidity
Conformable backing helps provide adhesion to a variety of curved and irregular surfaces
Aggressive acrylic adhesive offers good instant adhesion to a wide variety of materials
Once adhered provides good holding power that resists lifting and curling