14PSRUSTAMDF
Alder Rustic Plain Sliced MDF Core 1/4" 4x8
Alder Plywood
MPN: 14PSRUSTAMDF
14PSRUSTAMDF
MFG #: 81757298175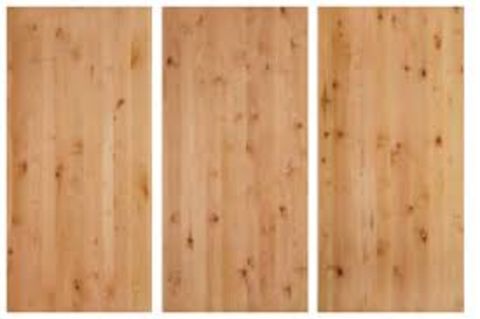 With a fine, light grain pattern and consistent color, Columbia Alder has a fresh look and great workability, making it a versatile choice for paneling, furniture and cabinetry needs. These panels from the Pacific Northwest work well with any interior design, from rustic to contemporary.
Featuring uniform colors in hues ranging from honey to pale brown, with no visible boundary between heartwood and sapwood, Columbia Alder panels are easy to both match and finish, accepting an array of finishes from clear to dark cherry.
These rustic grade (C) panels provide the most concentrated levels of natural characteristics.
The Medium Density Fiberboard (MDF) core is made in a production process similar to Particleboard (PBC) except that all of wood particles are small and uniform like sawdust. MDF offers great stability and is the least likely to react when subjected to a measurable change in temperature or humidity. It offers a very smooth, void-free surface for veneer faces.
MDF has greater strength and screw holding properties than particleboard and weighs around 100 lbs per 3/4″ panel. It is used in cabinets, furniture, fixtures and molding and is highly recommended for thin panel applications such as door inserts for cabinets and paneling.
Plain slice: Cutting logs in half lengthwise, then slicing the halves lengthwise produces a veneer with a unique grain pattern
Character-rich rustic faces provide multiple design options
A fresh look prized by manufacturers and consumers
Hand-selected trees and start-to-finish management ensure high quality