P-FMFL006B-250
FlatLok Structural Wood Screws - Bucket of 250
Structural Screw
MPN: P-FMFL006B-250
P-FMFL006B-250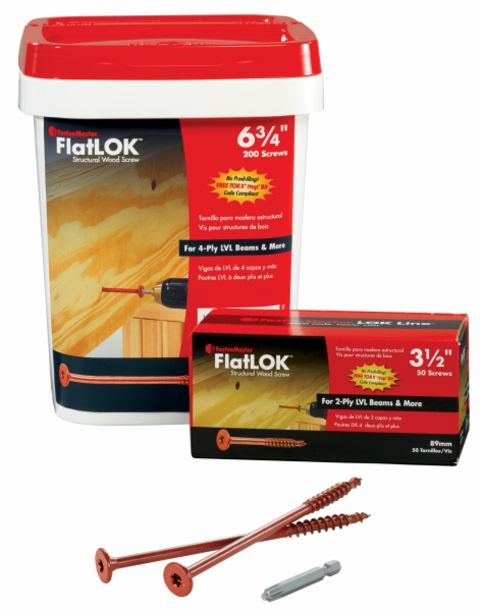 FastenMaster FlatLOK is a multi-purpose structural wood-to-wood fastener that is an alternative fastening method to using nails and through bolts when attaching multi-ply LVL, dimensional beams and girder trusses.
FlatLOK is easy-to-use because it requires no predrilling, thereby saving time and money. The flat head sits flush, allowing for easy application of drywall or trim.
In addition, FlatLOK is approved for single-sided installation, making the job easier to complete both at ground level or for elevated applications.
FastenMaster FlatLOK wood screw features TORX(R) ttap(R) drive system that maximizes bit fit, reducing the potential for stripping. The stability button allows for maximum penetration into the fastener and a wobble-free drive. A free TORX ttap bit is included in every box.
FlatLOK is tested and supported by engineering data that conforms to the most current ICC standards. It is also approved for use in ACQ or treated lumber.
Used as an alternative fastening method to using nails and through bolts when attaching 2-Ply Roof Girder Trusses or 2-Ply Dimensional Wood Headers
Requires no predrilling
Flat head sits flush, allowing for easy application of drywall or trim
Approved for single-sided installation
TORX® ttap® drive system maximizes bit fit and reduces the potential for stripping