P-03712
Formica Walnut Butcherblock 3712 Laminate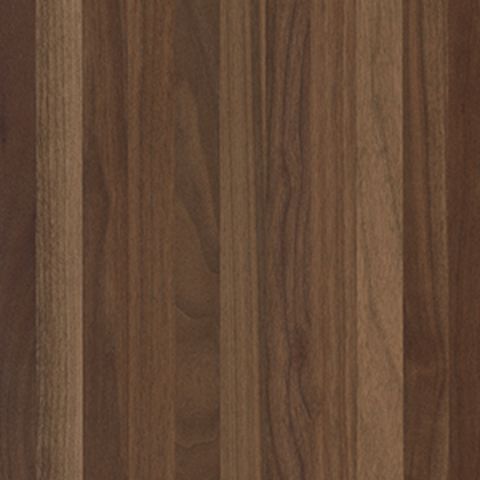 Part of the 2022 Living Impressions Collection, Walnut Butcherblock (3712) laminate is a luxurious butcherblock design created in the popular edge-grain fashion. It is constructed with long bonded strips of walnut, so each strip runs the full length of a countertop with no end grain seams.
Walnut Butcherblock is available in Matte (58) or Natural Grain (NG) finish. Matte finish provides a warm, pleasing effect that enhances the beauty of color and produces a greater clarity and depth. Natural Grain is an even textured woodgrain featuring a low luster, medium pore design.
Grade 12 is a Horizontal Postforming Grade (HGP): Outside radius s/b to 5/8 in (15.9mm) and cove radius to 3/16 in (4.8 mm). Postformable to permit bending on suitable commercial postforming equipment. Use whenever forming is desired for decorative or fun
Grade 20 is a Vertical Postforming Grade (VPG). Outside and inside radii s/f to 1/2 in (12.7 mm). A forming grade designed for vertical or light duty horizontal interior applications requiring radiused edges. Thinner than Grade 12, it is excellent for postformed radii. Installed panel width not to exceed 24 in (609.6 mm) maximum.
The Formica Living Impressions collection incorporates organic and authentic stones and woodgrains, classic white and light surfaces, and darker selections to imbue a dramatic mood.
Butcherblock design laminate
Durable high pressure laminate stands up to daily wear
Resists fading, stains, chemicals and scratches
Easy to clean and maintain